Premier Guitar Magazine – March 2010
Sherwin Linton, Crib Rods, and the origins of the "B-Bender"
The March 2010 issue of Premier Guitar magazine features an article recognizing Sherwin for his
contributions in the early invention of the "B String Bender." Watching Carl Perkins play "Flint Hill
Special" inspired Sherwin to disassemble his children's baby crib. Using the metal supporting
rods he developed the first "Plever" (peddle-lever) used to successfully bend the "B String." To
view the article
Premier Guitar Magazine – January 2010
Two Necks Are Better Than One: A Brief History of Multi-Neck Guitars
The January 2010 issue of Premier Guitar magazine features an article on the history of the
multi-neck guitar. Wallace Marx, Jr. traces the history of these instruments to 1690 where a
small-sized guitar with an even smaller, almost ukulele-sized, guitar is grafted to its treble side.
The article features music artists who played double neck guitars. A classic photo of Sherwin is
included with his six and twelve string electric doubleneck that he built in 1965. Many long time
fans still remember when Sherwin performed with this instrument in the 1960's and early 1970's.
It became a trademark image for him at that time. To view the article,
January/February 2010 - South Dakota Magazine
25th Anniversary Special - Unforgettable South Dakotans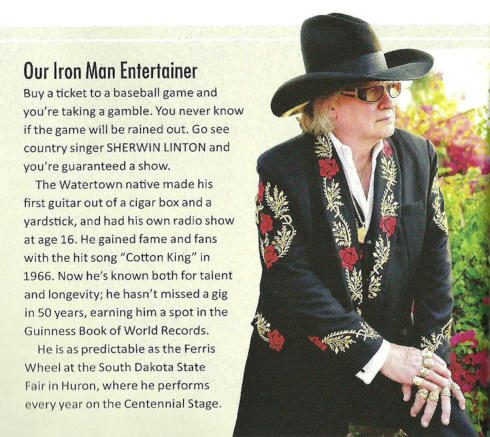 March 14, 2008 - ABC Newspapers Suburban Minneapolis, MN
Linton Named Entertainer of the Year
Elyse Kaner - Staff Writer
Sherwin Linton, the gravelly-voiced icon of a country singer, who if you close your eyes and listen carefully, you can almost
hear the spirit of Johnny Cash coming through, received a gift of love on Valentine's Day. That's when Linton was named
Entertainer of the Year by his Texas fans at the first ever FAME Awards Show & Ceremony.
The event, hosted by Families Advocating Moral Entertainment (FAME), was held Feb. 14 at the International Convention
Center in Pharr, Texas. Winners received awards in more than 25 categories, honoring country and bluegrass musicians and
comedians who perform in the Texas Rio Grande Valley, Nashville, Tenn., Branson, MO and Mountain View, AR. "It was
certainly a surprise to me," Linton said in a phone interview from Texas.
Linton, 68, his wife, Pam, and Coon Rapids resident Dick Moebakken, have been performing a fully slated schedule for the last
seven winters in the Rio Grande Valley. The trio has appeared in Texas for decades. Still, Linton was caught off guard when his
name was announced last month. "For me that means a lot because I believe very strongly in delivering entertainment that all
members of the family can be a part of," Linton said.
Linton first got wind of the honor when a fan came up to him before a concert (he likes talking to his audiences prior to concerts
as a warm up) and showed him a nomination list in the local paper that included his name. For the first ballet , Linton was up
against two other nominees. "We had no clue whatsoever that this was happening," said Pam Linton, a powerful country singer
in her own right. But the Linton's had an inkling that something was up when they received a call from the FAME organization
asking Sherwin's trio to perform a seven-minute segment at the ceremony. "Can you make sure that Sherwin is well dressed?"
they asked Pam. This posed no problem for the multi-talented musician as he always dresses for such occasions, she said.
Linton credits his perseverance and variety of music styles for his lengthy career dating back to the 1950s. "I'm a positive
thinker. Some people say 'too positive,'" Linton said. "I'm an optimist." Linton also owes his enduring career to a healthy life
style. He's not a heavy drinker. Doesn't smoke. "I truly love what I do," he said. "I love entertaining people. I am blessed with
a little ability of some kind. I love to share it. Through the years, I've made a lot of friends," Linton said.
Linton and his band, The Cotton Kings, plan to perform at Blaine's Blazin' Fourth celebration this summer. May 9 and 10,
they will appear at Moe's (formerly Doolittle's) in Coon Rapids. For more on Sherwin Linton visit www.SherwinLinton.com.
August 18, 2007 - Rapid City Journal
Linton's Legacy: Country Singer Being Inducted into South Dakota Hall of Fame
Thrown off a horse before a 1965 performance in Montana, country singer Sherwin Linton broke a couple ribs and his shoulder;
part of his right hand was in a cast. Linton still made it onstage. "I don't think I was very good that night, but I was there
anyway," the South Dakota native said. Neither rain, nor snow -- nor anything else, for that matter -- can keep Linton from
performing a scheduled show. The singer has been recognized by Ripley's "Believe It or Not" for never missing a single show
in 50 years of touring. "I just always believed in trying to be where I was supposed to be," he said. He's had to hitchhike when
equipment broke down, and has braved all kinds of weather -- including tornadoes -- to keep those concerts going as arranged.
"There've been times when I made it to the show, and nobody else did" -- not even the crowd, he said with a good-natured
chuckle.
Of course, avoiding alcohol and drug abuse helped keep his concerts on schedule. Opportunities were present, but Linton had
no desire to go down that road. "I never felt that I was so talented I needed to impair my talents with anything else," Linton said
with his characteristic humor. "I wanted to be the best I could be."
And after all those years of dedication, Linton has been selected for induction into the South Dakota Hall of Fame next month.
He says he is honored, surprised and humbled. But there could be no better musical representative of this state than the
country singer whose national and regional hits embody its rural lifestyle and ideals.
Linton's storytelling songs have an old-time twang and focus on traditional values -- family and religion and small-town life.
"That's where I grew up, and I still retain those elements and values within my own love of music, as well as in my lifestyle,"
Linton said.
Those wholesome themes, he's found, don't just attract an older crowd. After performing for more than a half century, he is now
drawing a fan base of younger people, college kids and hipsters who attend his shows with budding appreciation for traditional
country music.
Johnny Cash is a popular figure today in many younger music circles, and Linton's rich, full-bodied voice is easily compared with
Cash's -- so easily, in fact, that Linton's 1971 live recording at the South Dakota State Penitentiary, which featured a multi-song
tribute to Cash, it titled "Hello, I'm Not Johnny Cash." The liner notes to that CD contain a handwritten letter from Cash, thanking
Linton for his tribute.
Cash and Linton were friends; Linton talked to Cash by phone only a month before Cash's death in 2003. "It was very difficult for
him to get through the grieving process of losing June, but he was still planning on getting back and doing more recording," he
said.
Cash was an early influence on Linton, a young boy growing up in eastern South Dakota in the 1950's. Linton got his start at
KWAT Radio, a talented young DJ and performer with a guitar, a dream and a deep, charming voice. His early days of touring
made him a popular act in dance pavilions in the Black Hills. Linton and his rock 'n' roll, rockabilly band The Fender Benders had a
hit in the late 1960's when they traveled to Nashville to cut a song titles "Cotton King."
After that single's success, Linton renamed his band The Cotton Kings. Today, the six-piece band includes his wife, Pam, a
renowned singer herself who performs June Carter Cash's parts during his Johnny Cash tribute.
His Cash tributes may be what he is best known for, but Linton's other projects are varied. He recently recorded a series of
albums celebrating the centennials of South Dakota towns. He also contributed a chapter to the book "Growing Up Country,"
sharing his small-town memories alongside such notables as former President Jimmy Carter, Carrie Underwood and Dolly Parton.
In the '60s and '70s, Linton's shows included songs by everyone from Neil Young to the Rolling Stones; by the end of the 1980's,
he was even covering songs by rock band Poison, he remembers. "every Rose Has Its Thorn" would be a perfect song for Waylon
and Willie," Linton said, doing an entertaining impromptu and spot-on imitation of Willie Nelson singing that famous chorus -- "Just
like every cowboy sings a sad, sad song."
Linton stays abreast of modern music and incorporates it into his concerts, but always puts it into a context that fits with more
traditional elements. And, of course, he still covers Johnny Cash's songs, which he has been doing since 1955, when the
legendary performer's first record came out. "He crossed all those barriers, performing all styles of music," Linton said. "He
didn't have to change his own style of performing in order to include songs that a lot of people probably wouldn't have
thought would fit him."
Along with Linton's own hits, his set at the fair will include a tribute to Johnny Cash. But rather than pretending he is Johnny
Cash, Linton instead tells stories about Cash's life and reminisces about the legendary artist between songs. "Because I have a
lower-timbered voice, I can do the songs in the style that he did them, and people like to hear them," he said.
Asked how he has stayed dedicated for so long, Linton said, "I love entertaining, and I love music...I am 68 years old now, but I
really love music, and I still like to go out there. I enjoy performing it."
Locals may remember Linton's grandstand performance at the 1975 Central States Fair. At the time, he had a No. 1 record titled
"When She Cries," and he had also recently recorded his collaboration with Kinky Friedman, "Rapid City, SD," which was, as
one would expect, a hit with area residents. "We had a wonderful time at that particular fair," he said.
More than 30 years after that performance, he is looking forward to returning to Rapid City for a series of appearances at the
Central States Fair's free stage. And if Sherwin Linton says he'll be there, you can bet he will.
August 16, 2007 - Aberdeen American News
Linton Remembers Them All
Sherwin Linton has a phenomenal memory. Considering he's 68 years old and has played in literally thousands of different
towns, it's impressive that he remembers most of them vividly. "I can remember almost to the day every place I've ever
played," he said.
Some area venues even old-time Aberdonians might not recall. "I played in the Vegas Lounge, at Snoopy's, in the Lumber
Company, at Wylie Park, the Ramada, the American Legion, the Eagles, Craven Corner and the Farmer's Bar in Brentford."
Today, Sherwin Linton and the Cotton Kings will be playing at the Brown County Fair at 2:30 and 6 p.m. in the Ken's Family Tent.
"We love Aberdeen. It's like a hometown for me. I'm looking forward to seeing a lot of old friends," he said in a phone interview.
"This time we'll be featuring a special guest, Taylor Marshall from Hitchcock. He's 15 years old and has recorded a new CD,"
Linton, who now lives in the Twin Cities has to be one of the nicest musicians to interview and the not-in-a-big-hurry former
South Dakotan loves to reminisce. "The first time I played in Aberdeen it was at Tacoma Park in 1958. Then I played at the
Harbor Cafe in 1967. I played there a lot for a couple of years. We used to have a Saturday afternoon matinee where families
could come. I always liked to entertain the children and I didn't realize it at the time, but I was building a fan base. Years later, the
grown children would come to hear me play."
Linton surely must hold the record for never having missed a performance. For 51 years he's made it onto the stage, sometimes
sick, sometimes tired and sometimes injured, averaging up to 250 performances a year. "One time in Missoula, Mont., I think it
was in '66, I was riding horses that afternoon and I got thrown off a pretty spirited horse. I had cracked ribs and chipped bone in
my shoulder and a broken bone in my right hand. I was onstage at 8:30 p.m. I didn't do my best show that time. We've driven
through floods and blizzards and tornadoes. We've traveled a lot of different roads in a lot of different vehicles. And we had
vehicles break down. If a bus broke down, that was bad because not everyone can fix a bus. One time we were broken down and
a farmer came along on a buckboard and took us to the nearest town."
On Thursday, audiences will bet to hear a genre of music Linton calls Americana. "We'll play traditional country; folk, gospel and
rockabilly. We'll tell some stories and add a little humor. We don't tell jokes," he said. "but sometimes true stories are funnier than
jokes."
Besides Sherwin and his wife, Pam, there are four other musicians in the group. Martin Vigesaa plays steel, electric and flat top
guitar and dobro, an early style acoustic steel guitar. Alex Nyhus plays fiddle, banjo, mandolin, flat top guitar and harmonica. Jan
Whitehill plays string bass and on the drums is Rick Johnson.
Linton began his career as a disc jockey and live performer at KWAT in Watertown in the mid-1950's. He's a member of the
Minnesota Music Hall of Fame, the South Dakota Musicians Hall of Fame and the National Traditional Country Music Hall of
Fame. He's also a mainstay at the South Dakota State Fair. "The first time I played there was in 1973 and I've played every year
except three of four. They even named a fair street in my honor," he said.
July 13, 2007 - Grand Forks Herald
Sherwin Linton has played every venue imaginable from the Frontier Bar in Grand Forks to television's "Johnny Cash Show,"
and although his commercial heyday passed a couple of decades ago, he's gaining a whole new generation of fans.
Linton, a performer with a history as rich as a country song, will present the grandstand show at 8:30 p.m. Saturday at the Greater
Grand Forks Fair & Exhibition. His set will include a musical tribute to Johnny Cash, one of the landmarks of his performances.
His tribute is part of the reason he's been rediscovered by a hip, younger fan base in Minneapolis, which is his home when he's
not traveling to one of the 225 or so dates he plays every year. Linton began his homage to Cash as a teenager, when he worked
at a radio station in Watertown, SD. It continued with Linton's 1971 recording of the album "Hello, I'm Not Johnny Cash" at the
South Dakota Penitentiary and resonates in his performances today.
Witness what has happened when Linton has performed at a big Johnny Cash tribute show at the Cabooze in Minneapolis, a
venue packed shoulder to shoulder with enthusiastic Cash fans. "They are just a tremendously responsive audience," Linton
said. "Every year when we do it, I think, 'Well, that's the closest I'm ever going to get to being a rock star,' because the applause
and noise would go on for three minutes,"
In the beginning... Linton grew up in small town South Dakota, where his father worked as a railroad section foreman. By the time
he was 16, he had his own show on radio KWAT in Watertown, where he first heard Cash's recordings of "Hey, Porter" and "Cry,
Cry, Cry."
"I recognized with my low voice, even as a teenager, I could do his songs," Linton said in a telephone interview. "That was a
natural style for me. I learned every record he put out."
After graduating from Watertown High School in 1957, Linton headed to Minneapolis where he formed a rockabilly band, the
Fender Benders, recorded Midwestern hits and toured extensively. In 1963 he played the (now defunct) Frontier Bar in Grand
Forks for the first time. "At that time, it was the best nightspot in Grand Forks that had entertainment," he said. He also played the
Five Spot in Fargo and places in Hallock, MN and Minot.
A king of a hit... In 1966, Sherwin went to Nashville, Tenn., and recorded the song, "Cotton King," which raced up the national
charts. After that, he shared stages from Nashville to Las Vegas with stars including Carl Perkins, Tex Ritter and Roy Acuff.
That kind of a career generates a lot of really great stories. Linton said he's used to hearing, "You should write a book," but he
doesn't have the time. Here's one of the stories Linton shared during this interview. In 1967, after he'd recorded "Cotton King," he
and his band were playing in Aberdeen, SD, when they were approached by a man who introduced himself as Don Hunt from
northwestern Minnesota. He said he'd bought an old dance hall near MeKinock, ND, at Bachelor's Grove, that he planned to
restore it and that he wanted Linton and his six-piece band, the Cotton Kings, to play there. Back then, Linton said, he was paid
either a set fee, usually about $600, or he would get a contract for, say $400 plus a guarantee for part of the gate receipts or "the
door."
So, in June 1968, Linton and the Cotton Kings headed for their gig at Bachelor's Grove. They stopped for gas at Devils Lake,
where Linton was bewildered because, even though he'd sent Hunt 100 posters advertising the engagement, he didn't see any
posted there. When they arrived in Mekinock, they stopped at the elevator for directions to Bachelor's Grove, only to be told it
hadn't been open in years.
They went there anyway, and found it in total disrepair, Linton said, surrounded by weeds, with screens full of holes. There were
so many bugs that all the band members lit up cigarettes to try to smoke them out. The only thing new on the place was a
wooden door with a lock. A note on the door said to contact a local farmer to be let in.
The band set up anyway, Linton said, figuring that if Don Hunt showed up, he'd want to hear them playing before he paid
them. After one set, their audience consisted mostly of some kids who were roller skating. "That's enough, I told the band. I'm not
playing for roller skaters," Linton said. As the band packed up - still no Hunt in sight - Linton told one of the musicians: "Take the
hammer and screw driver and pull that new door off and put it in the van. It says in my contract I get $600 or the door, and unless I
get $600, I'm taking the door." They sold the door in Minneapolis for $50 and haven't heard from Don Hunt since, Linton said.
Following Cash... In 1971, Linton's friend and fan, South Dakota Gov. Richard Kneip, made it possible for Linton to record
"Hello, I'm Not Johnny Cash," in the South Dakota Penitentiary, an album that reinforced Linton's ties to Cash. Linton got
multiple nominations for Entertainer of the Year from the Country Music Association, and a handwritten letter from Johnny Cash
in which Cash said Linton's prison album had been "the greatest honor that another artist has ever paid me."
Linton continued to tour, recorded a few more hits (his novelty song, "Santa Got A DWI" in 1986 sold more than a million copies)
but mostly faded from the national scene.
Today, at 68, Linton records and performs with a six-piece band that includes his wife, Pam Linton. A Minneapolis Star Tribune
article in 2003 called him "the most storied country singer in town. He's also now the coolest," telling how Linton had been
embraced by young hipsters in the Twin Cities.
Linton said his days of seeking national fame are behind him. "Now I do projects that are of our own taste and what we like to
do," he said. "And people love that. I don't try to make a mark on the national charts anymore because I'm not going to compete
with those people."
Recently, Linton recorded a series of CD's celebrating centennials in South Dakota towns. He's won a wagonload of awards, has
been inducted into six halls of fame, had a street named in his honor and has been written about in "Ripley's Believe It Or Not" for
never missing a show in 50 years. This fall, he'll be inducted into the South Dakota Hall of Fame.
May 24, 2007 - Sioux Falls Argus Leader
Sherwin Linton Recalls His South Dakota Country Roots
Sadly, sometimes status isn't achieved by talent, work ethic, money or good looks but by the company you keep.
This partially explains why we care which mound of male muscle and high cheekbones is accessorizing Paris Hilton's arm this
week, or who's sitting behind you at Minerva's on a high-traffic date night.
If the people next to you do truly define your place in the world, Sherwin Linton has just entered country music's elite, hanging
with the likes of Dolly Parton, Carrie Underwood, Toby Keith and even pro rodeo superhero Ty Murray.
The South Dakota musician has become a regional legend thanks to his tireless touring and songs that reflect the mood and
people of the Upper Plains states. Now, he's featured with these and other luminaries of cowboy culture in "Growing Up
Country," a new book edited by Charlie Daniels.
Daniels, who apparently writes and edits books when he's not battling devils with his fiddle, complied a host of stories from
musicians, cowboys, politicians and race car drivers that detail how country life shaped their personae, careers or futures.
Linton's passage recalls his days as a youth in Osceola when he learned to swim in a railroad water tower.
The water tower angle's a bit unexpected. But it's also surprising that a South Dakota country singers whose national glory came
decades ago, (he was nominated for Country Music Association Entertainer of the Year twice in the 70's) was courted by Daniels
in a book full of country music legends.
The invitation also surprised Linton, who says he's only met Daniels a few times. "He had known that I had some interesting
stories... and that's what he was looking for, unique stories that individualize the growing-up-country experience," Linton says
during a recording session in Minneapolis.
The book is available at book stores around the region. If you're more interested in Linton's music than his prose, he's recording
a Christmas album that should be available later this year - likely during the Yuletide season.
For the record, Linton doesn't think this book deal vaults him to elite Nashville status. He still characterizes himself as a "local"
guy. But on paper, the company he's keeping is pretty impressive. I mean, what country guy wouldn't want to be stuck between
Underwood and Parton?
December 2006 - Mick's View
One of the luxuries of being a musician is that you are literally being applauded for what you do. It is unlike any other job that is
out there. You may be occasionally applauded at conventions or if you receive an award for your job, but there is no other job
where you receive such immediate recognition of a job well done. That is a perk of this job, don't let anyone tell you different.
However, there is the other side of this job. The boredom, the disappointment, the betrayals, the financial hardship, the list goes
on and on. It's easy to dream that you want to be a successful musician, but to actually achieve it takes thousands of hours of
practice, performance and trying to avoid the pitfalls along the way. It takes someone of hardy stock, to hang in there and make a
career of what of what non musicians so casually call "playing." I am very thankful that I know a person with this same kind of
hardy stock. I am lucky that he wants to know me. Yesterday, I saw a retrospective of his professional life at the Medina Event
Center and it was beautiful to witness. His name is Sherwin Linton.
As someone who has been playing in town for a long time, I had always heard of Sherwin Linton, but I never saw him play. In
2004, I contacted Sherwin about an event I was producing called LAKE HARRIET LIVE, a concert to celebrate the free
refurbishing of the Lake Harriet Bandshell. The lineup featured The Honeydogs, Debbie Duncan, TCC Gospel Choir, Boogie
Wonderland, as well as my band. I asked Sherwin to sit in with my band and do a Johnny Cash song.
It was a beautiful Sunday afternoon in September when Sherwin got on stage in front of 10,000 people. As I watched from the
side of the stage, I began to understand Sherwin had been performing for so long and why people loved him so much. His
charisma is undeniable. His look is unmistakable. His voice and presence tell you immediately that this is a man who has a
passion to perform and an authenticity that makes it work for the audience.
As my band rocked behind him, Sherwin basked in the love that the audience was giving him. As a front person myself, I always
love to see someone command the stage. Sherwin did. I will never forget that.
A year or so later, AI was booking a room in Shakopee. I had asked Sherwin to see if his band could perform a date. I received
a phone call from Sherwin while I was in Las Vegas with my band. Sherwin sounded terrible, very sick. The gig was just a happy
hour gig for very little money. Sherwin asked me if there was any way for me to find someone else to cover for him due to how sick
he was. I told him it would be no problem and for him to get better. Ten minutes later, I get another call from Sherwin, telling me in
no uncertain terms that in his nearly 50 years of performing, he had never missed a gig and he wasn't going to start now. That
made me love him even more. He put his man pants on and he did the job. Sorry for throwing this oft used phrase, but that was
"old school" kind of thinking. As long as he could stand up and have some kind of voice, Sherwin was going to honor his
commitment. Inspiring stuff.
In 2005, I had presented an idea to Sherwin about doing a documentary film about his life. Funding was found for the film
and it was beginning to happen. At this point, the film is on hold, but I hope someday it will be resurrected. This man
deserves to have his life documented for his thousands of fans to see.
As I sat inside the Medina Event Center and witnessed over 1000 people hang on his every word, the love for this man was
palpable. As rewarding as it must have felt, as a frontman myself, I suspect there may have been a bit of melancholy inside
Sherwin too.
Sherwin Linton could've taken the route of Johnny Cash, George Jones, Merle Haggard and the other legends of Country
music. He had that talent and he had that drive. Why those legends achieved what they did are due to luck, timing and of course
talent, but at what price? Are you willing to risk your financial, physical and personal health to attain a dream that is on the face of
it, so far fetched? That is the trade off that all musicians have to come to grips with. When Sherwin is playing the hundreds of
dates he performs every year and hitting the road as much as he does, there has to be a piece of him that feels like he hasn't
achieved everything he wanted. Such is the struggle all musicians go through, even the ones who others deem have "made it." In
my estimation, what Sherwin has accomplished is equally important and worthy of praise and admiration.
This man has been performing for audiences for 50 years. I'm not sure non-musicians will ever understand the magnitude of that
musical statement. Not only has Sherwin Linton performed for 50 years, he's performed 50 years and provided himself and his
family a quite comfortable way of life, thank you very much. With the direction of his devoted and brilliant wife, Pam, Sherwin is in
great hands. Together, Sherwin and Pam provide their musicians with work. They bring joy to thousands of people every year
inside small clubs, outdoor festivals, conventions and more. They bring their authentic brand of Country and American music and
deliver it with passion and showmanship. They respect their audience and their audience loves them.
Sherwin is a rare success story in the music business. He's a troubadour that takes care of business. I respect that. I respect the
man. I respect the bond and the marriage that Sherwin and Pam so clearly live every day. All of us in the Twin Cities area and the
region are lucky to have a man like Sherwin Linton in our midst.
In the end, this business is a mixture of naiveté, pride swallowing, risk, reward, rejection and praise. In order to get through those
emotions and a thousand others, you have to maintain. You have to get up, learn the songs, write the songs, find the right
players, get the gigs, drive the van, get to the club and hotel on time, deliver on stage and pay the bills. Sherwin Linton has done
that for 50 years. Thank you Sherwin for showing the rest of us how to get the job done.
November 2, 2006 - Minneapolis Star Tribune
Talking with Sherwin Linton is truly a trip, in the wowee-zowee sense and the winding road sense. You never really know whose
name might nonchalantly drop into the conversation.
This week, for instance, Minnesota's most seasoned country singer randomly told me about how he almost recorded "gentle
On My Mind" before Glen Campbell did. How he collaborated on the song "Rapid City, South Dakota" with current Texas
gubernatorial candidate Kinky Friedman. How Cheryl Ladd used to get up and sing with him in her pre "Charlie's Angels" days!
To that end, Linton, 67, is celebrating 50 years in the music business with a two-day anniversary bash this weekend at the medina
Entertainment Center. Expect more stories of this ilk at Saturday's dinner show and several different music sets Sunday afternoon
(1-6 p.m.) "I kind of look at it as celebrating 50 years of friendship with so many people, more than just celebrating 50 years in
music," said the ever-gracious South Dakota native.
Some of the friends he referred to are the many musicians who've performed and recorded with him over the years, everyone
from banjo maestro John Hartford (who wrote "Gentle On My Mind" to drummer Kenny Horst (who now owns the Artists' Quarter)
to one of the guys in Boogie Wonderland.
Linton got his start at 17 in the rockabilly band the Rocketeers, which became the Fenderbenders after he moved to Minneapolis
in 1957. When his single "cotton King" became a hit in 1966, he started down the road to Nashville, where he recorded over the
next decade and wound up a Country Music Association entertainer of the year nominee ion 1972 and 1973.
That (commercial) heyday is reflected on a new compilation CD, "1966-1975: Great years, Great Songs," which Linton is
releasing in conjunction with his anniversary bash. Other songs on the 20-track compilation include "I'm Leaving For Good
This Time," Mickey Newbury's "Sunshine" and the aforementioned "Rapid City, South Dakota."
One other nugget Sherwin dug up for this weekend: old film footage from a gig at the Holiday Inn Tavern in south Minneapolis
around 1958, which shows him jumping from table to table. "I was quite a showman," he said with a laugh. He probably won't
table-jump this weekend, but Linton thankfully hasn't lost that quality.
October 4, 2006 - Minot Daily News
His mother bounced him on her knee while singing Norwegian songs. By age 10 he knew the words to at least 100 songs. He
played Minot's old Dutch Mill in 1963 with the "Fender Benders," recorded his "Tribute To Johnny Cash" album in 1971 in the
South Dakota State Penitentiary at the request of that state's governor and was recently recognized by "Ripley's Believe It Or
Not" for not missing a performance in 50 years of entertaining.
This week Sherwin Linton has either been on stage in Copenhagen Hall or tucked under his big black hat in front of a plate of
lutefisk. "I learned to like lutefisk," said the deep-voiced and likeable entertainer. "It was part of what you did in our family." Linton
grew up in Watertown, SD. While working at a radio station there in 1955, he often played Johnny Cash's first major release - "cry,
Cry, Cry." Later, Cash came out with "Folsom Prison Blues" and his first No. 1 hit, "I Walk The Line." At the time, Linton was
playing in a band and singing many of the hit songs of the day by artists like Chuck Berry, Buddy Holly, Jerry Lee Lewis and Elvis
Presley. Possessing a deep voice, he soon took a real liking to Johnny Cash tunes. "My mom didn't allow me to sing "Folsom
Prison Blues," said Linton. "She didn't want anything to do with shooting people (I shot a man in Reno, just to watch him die.) I
could understand that. I just did that song out of her presence."
Today Linton and his wife Pam perform the "Johnny Cash Story" on stage. Although the Lintons display many of the voice qualities
of Cash and June Carter, they do not regard themselves and impersonators. "Basically, I like to tell the Johnny Cash story and do
his music," explained Sherwin Linton. "I'm not like the Elvis imitators. I play lead guitar. Cash didn't. He played flattop. I could
characterize his total image if I wanted to, but I really don't want to do it that way."
What he does on stage works just fine. And he connects well with the Hostfest audience. "It's not so much the music I do, it's the
kind of music I don't do," explained Sherwin Linton. "If it doesn't have a tune that can be hummed, a lyric that can be understood
and a beat that can be danced to, then I probably don't do it. For the people of the Hostfest-age group there just aren't any hit
songs in today's world." "It's simple, straight-forward music," added Pam Linton. "There's just something about the rythm. We've
played college bars to kids with green and pink hair and piercing in places we can't even talk about. But they will stand in front of
us and sing every word to a song from the 50s or 60s."
With the theatrical release of "I Walk The Line," the Hollywood version of the life of Johnny Cash, the Lintons say there's been an
upsurge in awareness of Cash's music. "I've got five year-old kids coming up and asking if they can sing "Ring Of Fire." That
movie made a cross-demographic icon of him," stated Sherwin Linton.
This year marks Linton's second straight appearance at Hostfest. The crowds at Copenhagen Hall have received him warmly and
sales of the CDs have been brisk. During some shows Linton will wave the American flag while reciting a very patriotic poem. The
audience always rises in approval. "I do it because I believe in it," says Linton proudly. "I don't do anything tongue in cheek. If I do
something on stage it's because I believe in it and I want to do it. That's the only way I know how to perform."
While the crowds have been thoroughly enjoying the Linton's, the Lintons have been enjoying the Hostfest. In fact, said Sherwin, if
he hadn't been invited back to perform this year he was going to take a week off and make the trip anyway. His wife Pam was in
full agreement and she explained one of her reasons why. "we were walking the hallways and heard some people singing "You
Are My Sunshine," said Pam Linton. "I tapped him (Sherwin) on the shoulder and told him it's truly wonderful and heartwarming
that a group of people here, from all over the country and other parts of the world, were elbow to elbow and singing that song. Isn't
that what America is all about? That's what the American way is. It's unity." "I was thrilled to get a call to come back," added
Sherwin Linton. "It's such a great event. I've played hundreds of festivals and I can't think of any one that I've enjoyed more, is
better organized, is better put together or people who are happier. If they have a complaint department here, the line can't be very
long."
Linton's connection to Johnny Cash goes far beyond his work on the stage and the country singer was well aware of Linton.
During a Johnny Cash appearance at the South Dakota State Fair in 1976, the country western king removed his boots and
presented them to Linton. Linton still has a hand-written letter from Cash that reads, in part, "...for you to do a whole album
dedicated to me is the greatest honor that another artist has ever paid me." Less than a month before Cash's death, Linton
received a call from Tommy Cash, Johnny's brother. Tommy told Linton that Johnny was asking about him and would really
appreciate a phone call. "I told him I really appreciated everything he did for me and millions of other people. One thing I wanted
him to know is that a lot of people found the Lord because of him," remembered Linton. "He had a rough-hewn image, but when
people saw Johnny Cash bowing down to the Lord, they felt maybe they could too."
The Lintons are presenting the "Johnny Cash Story" at noon and 6 p.m. at Copenhagen Hall.
September 5, 2006 - The Daily Plainsman
Sherwin Linton Honored With Street Name
One of the streets on the state fairgrounds has been renamed "Cotton King Avenue" and many comments declaring "the fair is
back" greeted State Fair Advisory Commission members Monday.
Agriculture Secretary Larry Gabriel informed the commission that he had renamed one of the streets in honor of Sherwin
Linton and the Cotton Kings.
Gabriel said he has sat through Linton's shows in the past "and I never tire of listening to him." Linton was celebrating 50 years in
show business during his appearance at the State Fair. "We wanted to do something for him," Gabriel said. "It's little things like
that that make it all worthwhile."
August 2006 - Hawk Creek Journal
A colleague of mine whom we in the industry refer to as "Toot Toot" and I used to waste some of our bosses money standing
around the Chippewa County Fairground's stage chortling at Sherwin Linton with his colorfully yoked cowboy shirts, his
curve-trained Stetsons and collection of CDs and jewelry fairgoers couldn't get enough of.
While we'd be waiting around with cameras for the announcement of the Chippewa County Seniors of the Year, Sherwin's sweet
wife, Pam, dressed in skivvies, would be setting a folding church-basement table and opening plastic bins with Sherwin Linton
paraphernalia - earrings, CDs and the like - paying no attention to anyone. Sherwin and his "Cotton Kings" would be tuning up in
the high shade in the gravel thoroughfare behind the little stage. Twang twing, Twang twi-aaang. Twang TWANG. Twang twang.
They'd nod. We'd smile.
Sherwin was as much a part of the Chippewa fair shindig as the green-on-white 4-H tee-shirts worn by the kids walking
between the cattle barn and the pie stand.
This week, though, the fair chugs along without the colorful legend, Sherwin Linton. When I saw the lineup without Sherwin I did
a double take before phoning Toot Toot just to see if there had been an error. Nope. "We just thought we'd try something
different," Donna Halverson, overseer of fairs affairs, was quoted as saying. "That doesn't mean we won't have Sherwin back
sometime in the future."
Good grief! Certainly change is hard and sweet, but after a dry summer like this it's good to have a little refreshment. That was
Sherwin and crew, whether you liked his music or not. Oh he'll be around, Stevens County will feature his crew as will other
nearby county fairs. Plus he is scheduled to appear at another South Dakota State Fair. Shoot, they wouldn't consider holding a
fair without him down at Sioux Falls. No way.
Gosh, this guy has been around even longer than Johnny Holm. Here I was just chatting with a fellow who said he'd taken his first
high school sweetheart on their first date to a Johnny Holm concert in the 1970s. He was surprised to realize Johnny was still
around. Shoot. Johnny's little blond, highly energized baby daughter who performed here a week or so ago was born 20 years
after this guy took his date to see him. Well, that's nothing. With a really, really fun first date you could have fit in three generations
since Sherwin plucked his first chord over in South Dakota.
It was fun going to Sherwin's official website - I didn't notice if there were the seven to ten fan sites big stars seem to have, with
a galaxy of photographs - to scroll through his galaxy of photographs. There was Sherwin as a skinny South Dakota kid with his
first guitar. There was Sherwin after moving to Minneapolis where he started what appeared one of those KOMA rock bands.
That's what we called it back home. KOMA was the biggest and baddest AM station on the prairie back then and featured great
ads on the venues of touring rock bands stretching from Waco to Fargo. Some hyper, crazed announcer excitedly knocked off
dates and places with a voice-over covering a swatch of hot guitar licks in the background: "On August 19 the Fabulous Fender
Benders will be at the Fiesta Ballroom in Montevideo. You can catch them at the Bellray Ballroom in Watertown on the 20th. Rock
out to the Fantastic Fender Benders August 22 through the 26th at the rockin' Rock Garden in Okoboji. They're wild, they're
fabulous, The Fender Benders will rock the Tifany Heights Ballroom in Sioux Falls in a BIG ROCK AND ROLL Marathon on the
27th. You don't wanna miss the Ferious ACTION of the Fender Benders!"
And, yes, that was the name of Sherwin's band back in the late 1950's and early 1960s. Many bands used the "Fender" name
because of the famous guitars and incredible speakers of the same name.
Sherwin made his big switchero from "rockabilly" to country - rockabilly was sort of a hybrid between rock and roll and "country"
music, which in environs due south of here was called "hillbilly" music. Some may remember the old Sun label which gave such
rockabilly stars such as Elvis, Carl Perkins, Jerry Lee Lewis and Johnny Cash their start.
Remember that last name, for Sherwin had ties with Johnny Cash. He had ties with a lot of folks. Why just recently Sherwin was in
the news for selling an original poster advertising the dance in Okoboji that Buddy Holly, the Big Bopper and Richie Vallens was to
play before the plane went down in an Iowa corn field killing Holly and the Big Bopper. He picked up enough cash on that mint
condition poster to take care of ol' Toot Toot and me for a year or two. When that story hit what we call "the wire" he called to see if
I'd heard about it. "You sure this is the same Sherwin Linton?" I asked. "John, boy. There is only one Sherwin Linton." What was I
thinking of?
That's when I thought about cornering Sherwin for a profile piece. After all, he calls himself Mid-America's Country Music
Legend, Mid-America's Number One Entertainer and A Nationally Unknown Superstar. So he must have a great sense of
humor
"in 1966 when he recorded "Cotton King" that got him a spot at the Grand Ol' Opry and a tag-along gig with Roy Acuff. So Sherwin
has rubbed elbows with some of the big boys including a fella he calls a friend, Johnny Cash. Sherwin recorded an original song
called, "Hello I'm Not Johnny Cash." Another hit was "Santa Got A DWI." He's got to have a sense of humor, one that is self-
effacing.
Lawrence Welk was my last South Dakota superstar "interview" - a news conference, actually, where we entered a room,
were given a numbered question, and Welk read the answers off a teleprompter.
Sherwin Linton would surely be a little more forthcoming. After all, he's a Nationally Unknown Superstar - one who
isn't here.
August 18, 2006 - Tri-State Neighbor • South Dakota State Fair Edition
Sherwin Linton Celebrates 50 Years In Entertainment Business
Long-time favorite entertainer at the South Dakota State Fair Sherwin Linton will be celebrating his 50th year in the
entertainment business this year.
Linton started his first band, Sherwin Linton and the Rocketeers in 1956. In 1958, he changed the name to the Fender Benders in
honor of the Fender guitar. His current band, The Cotton Kings, derived its name from the song he recorded in 1966, "The Cotton
King," which was a hit on the country music charts.
The Cotton Kings are a six member band and between all of them, including Linton's wife, Pam they play a total of about 15
instruments. Pam also sings in the show. The band's repertoire of about 5,000 songs includes blue grass, folk, rock and roll,
gospel, jazz and a lot of country.
"That sounds like a lot, but I've been performing for 50 years and I started learning songs at 4 years old," Linton said. He doesn't
do much of the music on the current charts. "It doesn't really fit my style. We do the kind of music we really enjoy performing and
we try to do uplifting songs, introduce a little humor and particularly try to touch the heart strings. Then we do some gospel and
patriotic songs. If you can include all of those elements into a show, you are able to entertain just about any audience, if they are
there to be entertained," Linton said.
The band and Linton have released about a dozen CDs and probably a total of 20 albums. Linton's favorite songs to perform are
"Singin' The Blues," "School Day" and "Suppertime." The band performs about 200 to 225 dates per year, which may include up
to 600 shows. They like to perform at churches and nursing homes and do the performances free of charge.
"If people ask, we try to oblige. We have something to give the elderly, especially the old songs they remember. It is special to be
able to lift their spirits in the later years," Linton said.
Linton has been performing at the fair since 1973, only missing a few fairs during the 1980s when he was busy elsewhere. A
South Dakota native, he was born in Volga, SD. His father was a section foreman for the Great Northern Railroad and the family
lived in many small towns in South Dakota including Osceola, Arlington, Willow Lake, Chester, Wentworth, Irene, Hazel, Grover
and the larger town of Watertown.
"Growing up in small towns was a good experience for me. I wouldn't trade that for anything. I have performed all over South
Dakota now for 50 years and now every year when I perform at the State Fair in Huron, it is like coming home. It is coming home,"
he said.
Linton enjoys performing because he gets to see so many people he has met at the fair before and to meet new people. "So
many people I've known come to see the shows and I have the opportunity to meet new young people every year, both those in
the audience and those who we feature in our show. The South Dakota State Fair is my favorite engagement. We need to keep
this fair going for South Dakota's cultural traditions," he said.
Young new talent is important to Linton. That is why he features budding performers in his show. He has helped hundreds of
young performers in whatever ways he could. "I love music and I try to help musicians any way I can. Even if it is a street
musician, I never pass them by without leaving a tip," he said.
Music is what has supported him and a "big, big" part of that support has come from rural farm communities. "That is where I feel
at home," Linton said.
Among some of the young performers he will feature this year are Anne Wentworth from Stickney, SD; Mallorie Haley of
Winner, SD; Taylor Marshall from Hitchcock, SD; and sister, Alexandra and Amber Samson, "The Little Yodeling
Cowgirls," from Becker, MN.
Recently Linton traveled to Nashville and produced a new CD called "Hot Dog," which features Taylor Marshall. Linton
performs in one vocal on the CD and Johnny Cash's brother, Tommy Cash also did a duet with Taylor called "Tennessee Flat
Top Box." Flat top box is the nickname for a guitar. "Some of Nashville's top studio musicians performed on that CD," he said.
September 2, Marshall will have a CD release party and will be performing the songs and autographing the CD at Linton's show.
Linton and his wife, Pam, make their home in Minneapolis where they also perform at clubs. They have three grown children.
Who knew that when Little Sherwin built his first guitar from a cigar box, ruler and rubber bands at age 6 that he would still be
playing the guitar 50 years later? His equipment has improved and his reputation as one of the most popular performers at the
fair has stood the test of time.
August 2006 - Saint Paul Illustrated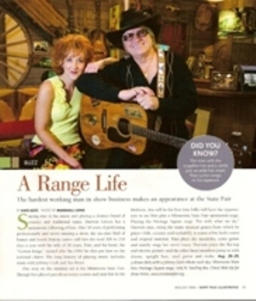 Staying true to his music and playing a distinct brand of country and traditional tunes,
Sherwin Linton has a nationwide following of fans. After 50 years of performing
professionally and never missing a show, the six-time Hall of Famer and South Dakota
native still hits the road 200 to 250 days a year with his wife of 26 years, Pam, and his
band, the "Cotton Kings," named after his 1966 hit that put him on the national charts.
His long history of playing music includes stints with Johnny Cash and Tex Ritter.
One stop on the summer set is the Minnesota State Fair. Though he's played just
about every county and state fair in the Midwest, this will be the first time folks will
have the opportunity to see him play a Minnesota State Fair - sponsored stage.
Playing the Heritage Square stage "fits with what we do," Sherwin says, citing the
many musical genres from which he plays - folk, country and rockabilly, to name a few,
both covers and original material. Pam plays the mandolin, some guitar and mainly
sings her sweet voice; Sherwin plays the flat-top and electric guitars; and the other
band members jump in with drums, upright bass, steel guitar and violin.
August 28-29, 3 shows daily with a Johnny Cash tribute each day. Minnesota State
Fair, Heritage Square stage, 1265 N. Snelling Ave. Check Web site for show times.
www.mnstatefair.org.
July 14, 2006 - Minneapolis Star Tribune
Collector Ponies Up For Piece Of Rock History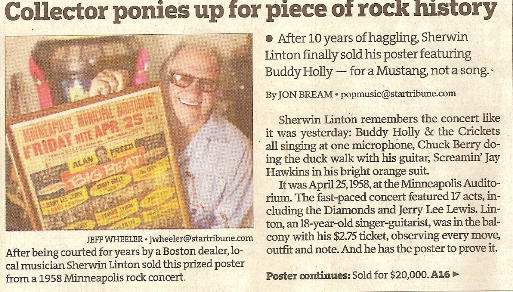 After being courted for years by a Boston dealer,
local musician Sherwin Linton sold his prized poster
from a 1958 Minneapolis rock concert.
Sherwin Linton remembers the concert like it was
yesterday: Buddy Holly & the Crickets all singing at one
microphone, Chuck Berry doing the duck walk with his
guitar, Screamin' Jay Hawkins in his bright orange suit.
It was April 25, 1958, at the Minneapolis Auditorium.
The fast-paced concert featured 17 acts, including the
Diamonds and Jerry Lee Lewis. Linton, an 18-year-old
singer-guitarist, was in the balcony with his $2.75 ticket,
observing every move, outfit and note. And he has the
poster to prove it.
Boston poster collector Mitch Diamond got wind of
Linton's poster about 10 years ago and offered him
$500 for it. Linton, a music collector of sorts himself,
declined. But Diamond was dogged.
A week later, his offer kept growing - $1,500, $2,000,
$2,500. Still, no. Christmas cards kept arriving from
Diamond and so did offers. "I hated to send it to Boston
Linton, A Minneapolis item," said Linton, a Minnesota
country-music institution.
Finally, this year Linton with a little arm-twisting from his wife, Pam, phoned Diamond; he was ready to sell, spurred by the
couple's desire for a sporty convertible. Diamond and Linton settled on $20,000 - for a now-yellowing cardboard poster Linton
pulled off the wall at a downtown Minneapolis building the day of the concert.
"In today's world $20,000 isn't a lot of money to some people," said Linton, 66, "but it still is to me. It's a lot for a poster."
Diamond who since 1980 has amassed more than 1,000 pre-1970 concert posters worth at least $700,00, thinks he has a diamond
in the rough.
"It's very rare; I know of only a couple of them," said the 55-year-old hobby banjo player who lends and sells posters to museums
such as the Rock and Roll Hall of Fame in Cleveland and has a music poster website, www.kardboardkid.com. He ranks the
Minneapolis in the top 10 of his collection, behind a Beatles-in-New York poster and one for the concert country superstar Hank
Williams was en route to when he died in 1953.
In 2004, Diamond paid a record $69,736 for a Beatles' 1966 Shea Stadium poster. Another copy of that placard - in much
better, near-mint condition - sold a few months later for $132,736 to Twin Cities precious metals dealer Jim Cook.
Diamond thinks Linton's souvenir might be worth $50,000 if, as they say on TVs "Antiques Roadshow," he found the right buyer.
Linton doesn't care. With the $14,000 deposit, he bought a 2004 Mustang convertible in which he'll pick up Diamond this
morning when the collector flies here to pay up and grab his prize.
Moreover, to Linton, the music is more important than the memorabilia. He and Pam have a gig tonight at a ballroom in Gibbon,
Minn. - and Diamond says he's almost as excited to see his longtime phone pal perform as he is to get the poster.
July 7-10, 2005 - Tri-County Fair News Wishek, ND
Country Music Legend Will Headline
Sherwin Linton has built his 50-year career around solid stuff
Legendary Country Music performer Sherwin Linton will headline the Sunday evening grandstand show July 10 during the 79th
Annual Tri-County Fair on the event grounds near Wishek. The 7 p.m. concert also will feature Linton's wife Pam, and his well
known backing band, The Cotton Kings.
Linton has been in the music business since he was old enough to make his first guitar out of a cigar box and a yard stick. "This is
my life," he says. "It's what I do, and if I look like I'm, enjoying myself up on stage, that's no act. I love it when the music starts and
the crowd responds."
It's been a long, sometimes strange, trip for the South Dakota kid who hit national country-music pay dirt in 1966 with "Cotton
Kings," a song recorded in Nashville. Born in Volga, SD, he and his family moved often in South Dakota as his father found
railroad work from Arlington to Hazel to Watertown. Watertown is where Linton went to high School, and where he had a radio
show on KWAT before he split for the Twin Cities. There, he left a band called the "Rocketeers" and started the "Fender Benders"
in 1957.
When "Cotton King" rode high on the charts, Linton performed as Sherwin Linton and The Cotton Kings, playing venues from the
Grand Ol' Opry to Las Vegas, winning nominations in the early 1970's for Country Music Association Entertainer Of The Year.
Those days are gone, but the music remains, and so does the road. He'll play 250 dates this year. He had surgery a few years
ago to remove polyps from his vocal chords. It's the third such operation for Linton, but there's no hint of weakness in the
booming voice that seems to come from some bottomless black hole.
"He's an amazing story," says South Dakota State Fair commissioner Mike O'Connor of Hartford. "I don't know if a lot of people
understand how much he brings to the fair year after year, but the commissions does."
It's amazing, too, to step right smack to the front of the stage, as Linton does to open and close each show. He performs a
medley of country standards, including a duet with his wife, Pam, on a Johnny Cash and June Carter hit "Jackson."
With a 100-watt smile and a wide brimmed hat pulled low above his eyes, Linton looks like a man who is standing exactly
where he's supposed to and knows it.
"I grew up on Bob Wills, and then Bill Haley and Chuck Berry, Elvis and Little Richard and Buddy Holly, Johnny Cash and the
Everly Brothers," he says. "Music has changed a lot, but the style those people put together is a constant. If a person sticks with
that good, solid stuff, he ought to be able to enjoy himself a long time."
February 10, 2005 - On The Farm
My mailbox recently contained a postcard from Pam and Sherwin Linton.
The Linton's are the talented husband and wife team who have somehow managed to combine a successful marriage with a
successful career as professional country and western musicians. This can be no small feat; after all, imagine the number of times
they have sung about cheating hearts, achy-breaky hearts, seas of heartbreak and so on.
Merely thinking about these things is enough to make one reach for the Yellow Pages and check out the listings under "Marriage
Counselors." Either that or "Cardiologists."
Anyhow, Pam's postcard included a note which said that she continued to enjoy my columns. I checked the postmark on the
postcard and enviously noted that it was mailed from exotic, romantic Green Bay, Wisconsin.
Pam and Sherwin are about the most famous (famousest?) people I personally know. Getting that postcard from them made me
wonder what it might be like to live the life of the rich and famous, to indulge in "la dolce vita."
I am by no means the first to have such far-fetched flights of fantasy. Just look at what's on TV nowadays: "American Idol",
"Extreme Makeover", "This Old House." These and other shows of their ilk thrust us into imaginary worlds that are unavailable
and unattainable by mere mortals.
Due to my upbringing, I am more prone to fantasies of extreme elegance than your average bear. This is due to the much higher
level of responsibility expected of kids back then. When I was young, we were actually required to earn our keep; it was totally
unheard of for a teen to live as teens do nowadays, sleeping until noon, then becoming upset if their mom is a few moments late
in bringing a hot breakfast pizza to their bedroom door.
When we were kids we had to WORK, by gee! We carried water and feed to hogs and cows, making so many trips across the
farmyard that we wore deep grooves into ground, despite its being froze as hard as iron. This is why kids nowadays tend to be so
much taller than in my day: they get to lay on the couch and stretch out, while we had to carry all those five-gallon buckets, which
no doubt stunted our growth.
This also helps explain my long held fantasies regarding the lives of the rich and famous. It must be great, I though, to be like
Pam and Sherwin, to see your name up in lights every time you arrive in a new city. It must be marvelous to be greeted by
adoring hordes, crowds of people who feel total fulfillment now they have caught a glimpse of your smiling visage! How gratifying
it must be to step out onto the stage and into that white-hot spotlight and hear the crowd go wild! You are thankful for the beefy
security guys down front who must constantly struggle to keep your more rabid fans at bay. Catherine Zeta-Jones is among
those in the front row; she squeals something incoherent about how you MUST star in her next movie as a security guy carries
her, screaming and scratching, from the venue.
After the show you are whisked from the venue in your posh, 50 foot long private limo to your penthouse hotel suite. As is your
wont, you dine on caviar which is collected by a wizened Russian fisherman from your own private sturgeon pond in Azerbaijan.
You wash it down with a bottle on 1959 Dom Perignon champagne; a few years back, you bought the winery that makes Dom,
mostly to secure your supply of the '59. The next day, as you slice through the sky aboard your private jet, you take a few phone
calls. Alan Greenspan is again asking what you think he should do about the nation's monetary situation. Bill Gates is on line 2;
you just know that he's going to beg you to help him name his new operating system. You are on your way to Trump's latest
nuptials. Your wedding gift to "The Donald" this time will be a large jug of heavy-duty hair conditioner; someone has to tell him.
I emailed these and other ruminations to Pam and Sherwin, and Sherwin quickly replied. He informed me that Show Biz is not
anything near as glamorous as I had imagined and that the average bear would have a far better chance of achieving the lifestyle I
described by working with such things as an old mule and a one-bottom plow! This is great news! Because I'm pretty sure we have
a one-bottom plow out in the trees somewhere.
January 2004 - South Dakota Fairs & Celebrations Newsletter
Sherwin Linton Inducted Into The 2003 Fairman's Hall Of Fame
Sherwin Linton has been entertaining at fairs, festivals, and celebrations across South Dakota for 37 years. He has played about
every fair or celebration in the state from Hazel (population 56) to the South Dakota State Fair. In the early years, he was
represented by the Harry "Hap" Peebles Agency and in the late 1980's he joined the South Dakota Association of Fairs &
Celebrations as an Associate member with his own entertainment agency.
Sherwin began entertaining with his band "The Rocketers" on radio station KWAT in Watertown, SD in 1956. He moved to
Minneapolis, MN in 1957 and formed "The Fenderbenders." In 1966, Sherwin journeyed to Nashville where he recorded "Cotton
King." After this song charted in the Top 10 he renamed his group "The Cotton Kings." Nineteen seventy-one brought the
nationally acclaimed LP, "Hello, I'm Not Johnny Cash", recorded live at the South Dakota State penitentiary. Sherwin was
nominated for "Entertainer of the Year" and "Male Vocalist of the Year" by the CMA, ACM, and the Music City News in 1972 and
1973. His 1986 Christmas novelty hit "Santa Got A DWI" has sold over 1 million copies. Sherwin continues to work tirelessly and
has just released a new CD titled "It Happened In America." This project is a collection of 17 original songs written over the span of
his 47-year career.
Throughout the years, Sherwin has received many awards that include: South Dakota Musicians Hall of Fame, 2000 inductee
in National Traditional Country Music Hall of Fame, 2001 inductee in the Minnesota Music Hall of Fame, Honorary Arkansas
Traveler, and Honorary Kentucky Colonel. he is a member of the Country Music Association and the Americana Music
Association.
Sherwin and his wife, Pam, currently live in Minneapolis. Sherwin has three children, Sherwin Jr. (Buddy), Leilani, and Melody. His
daughter Melody and son-in-law, Roger, have four boys, Sherwin's grandsons.
He is a long time supporter of the South Dakota Association of Fairs & Celebrations. If the Association needed a show, Sherwin
would do his best to provide what was needed. The year the Association hosted the Zone IV meeting in Watertown, Sherwin was
the only entertainer that said he would come and provide the entertainment for the group. He has donated to the auction at the
convention and those items have helped raise many dollars for the Association.
Sherwin Linton has always had time to mentor youth who have an interest in the entertainment industry. He has produced
many shows at County and State Fairs featuring youth and amateur performers. He works in the production of CD projects for
young and up-and-coming artists. He is the champion of the youth performer, always striving to give everyone an opportunity.
The South Dakota Association of Fairs & Celebrations is pleased to induct Sherwin Linton into the South Dakota Fairman's Hall
of Fame.
November 20, 2003 - Pipestone County Star
Star power draws a crowd: Sherwin Linton & more brings in 200 fans
The largest crowd in the four years of the Main Street Jamboree was on hand last Sunday to see the likes of Sherwin and Pam
Linton, Jennifer Johnson and the Voges Brothers. Audience members got to see some outstanding entertainment, emcee Mylan
Ray of KLOH Radio said. "I'm just thrilled," he said. "In four years, this was one of our best. I think the Great Pretenders was our
previous (largest crowd)." Ray said Sherwin Linton, fresh off a performance in Nashville this week, was "very gracious and was
willing to come back again." He said Linton and his wife were everyday folks who were "as comfortable as they could be" in the
Pipestone community.
Johnson and the Voges Brothers are also regulars who provided strong performances. Johnson, a Flandreau native, has
grown into a significant talent. She is a student at the University of Sioux Falls.
Ray said organizers of the Jamboree have made a significant decision in bringing Sherwin Linton to Pipestone. "We're kicking it
up a notch, with more top-name people," he said, announcing that Johnny Holm will be the featured act for the March Main
Street Jamboree.
Those attending Sunday's Jamboree were pleased with the result. "We got a lot of comments," Ray said. "Very favorable
comments. It was pretty exciting."
November 13, 2003 - Pipestone County Star
Sherwin Linton brings show to local stage
One of America's entertainment treasures, Sherwin Linton, will be the headlined performer at the Sunday, November 16 Main
Street Jamboree at the Pipestone performing Arts Center.
Linton, a 64-year-old legend who was recently featured in the Star Tribune, has been performing for 45 years by singing the
songs of Elvis, Marty Robbins, Chuck Berry, Buddy Holly and Johnny Cash. He has also performed his own hits and originals,
plus a wide variety of current and oldies country and cowboy songs. With an estimated repertoire of more than 5,000 songs, he
can entertain any audience anywhere.
Joining Sherwin for his acoustic set is his wife, Pam Linton. The show starts at 4 PM and lasts until 6 PM at the Arts Center, and
also features the Voges Brothers, back by popular demand, and Jennifer Johnson.
KLOH's Mylan Ray who emcees the show, can't wait. He says he's "pumped" to bring his friend of 30 years to the Jamboree for
the first time. "He's the biggest name artist we've had in our 21 jamborees," Ray said. "And we've had some big ones with the
Great Pretenders, the Bauman Brothers and the Regulators." Sherwin Linton, he says, has played at the Grand Ole Opry and has
been nominated for Country Music Association awards. He's been around for years, and has been nationally known, Ray said, but
people still know him and like his work. The recent Star Tribune article featured Linton's work in the Twin Cities, and his continued
popularity. That doesn't surprise his longtime friend Mylan Ray, who met him 30 years ago for a telephone interview and has
remained close to the singer, who lives in the Twin Cities. Ray says his "genuineness" is his best quality. "He likes to get out and
entertain," Ray said. "He's always up on stage and he gives his best. He's a presence...he's special." Mylan said his friend has
been aware of the Main Street Jamboree, and that it was Sherwin Linton who brought up performing here. "I was afraid to ask and
I thought there was no way we could get him here," he said. "He had never forgotten (about the Main Street Jamboree)." Mylan
said he tried to have Linton come to Pipestone in September but his road schedule was too busy.
His wife Pam Linton, a native of St. Stephen, Minn., has been a professional performer for nearly 30 years. Both Sherwin and
Pam have been inducted into the National Traditional Country Music Hall of Fame.
Sherwin Linton has performed at the Arts Center before but not as part of the Main Street Jamboree. Rounding out the live radio
show is a little homespun humor and more, hosted by Mylan Ray. Reserved tickets are $10 for adults and $4 for children 10 and
under. Tickets will also be available at the door. For more information on tickets, call the ticket office at 825-2020 or 1-877-722-
2787.
October 17, 2003 - Minneapolis Star Tribune
At 64, he's the most storied country singer in town. He's also now the coolest, thanks in
part to his affinity for Johnny Cash.
Hello, I'm Sherwin Linton
The letter from Johnny Cash hanging in the lobby of the Midwest Country Music Theatre sort of says it all. Dated November 5,
1974, it's a permanent fixture in this historic opera house, central Minnesota's version of the Grande Ole Opry.
"For you to do a whole album dedicated to me is the greatest honor that another artist has ever paid to me," the letter reads. "It
takes real talent to accomplish what you did."
The recipient of that note - dusted-off country singer Sherwin Linton, 64 - is back doing what he did then, after two decades in
obscurity.
Last weekend at the theatre, Linton played for a mostly senior-aged crowd, which burst into applause when he started singing
Cash's "I Walk The Line." A woman who used a walker to get to the front row nearly jumped out of her seat. Others clapped along
- not exactly in unison, but close enough.
Dressed in a tan 8 1/2 gallon hat and a buckskin like pullover, Linton smiled like he was having the time of his life. And maybe
he was. "I think too many entertainers think too hard and forget to have fun," he said after his set, hanging out in an RV parked
behind the theatre.
He flashed that same, plains-wide smile last month as he played Cash tunes for a crowd that was polar opposite to the one in
Sandstone. The occasion was the Minnesota Music Awards, held this year at O'Gara's bar in St. Paul and accurately described
by Linton as "a bit on the intoxicated side." It was a see-or-be-seen kind of event, with young hipsters and cool rock'n rollers from
the Twin Cities music scene rubbing elbows.
While he played members of the punk-rock band the Soviettes and writers from City Pages danced near the front of the stage.
The 20-something audience received Linton as ecstatically as the 70-somethings. "This kid shook my hand after that and said,
'Man you're the coolest man on the planet!'" Linton recalled, laughing. "I thought, 'This kid hasn't seen many performers.'"
Truth is, few of today's young music fans have seen singers who act like stars. At least not ones like Linton, a South Dakota
native who has become a popular attraction again on the Twin Cities nightclub scene, 40 years after his first heyday.
With his wife and sidekick, Pam - who usually wears enough glitzy clothing and makeup to play the Las Vegas Hilton, even if it's
just Lee's Liquor Lounge - he has made his comeback by doing what few musicians still do. He puts on a show, with
preconceived bits of dialogue, flashy stage gestures, the whole bit. He plays the part of a star, whether or not he really is one.
His Johnny Cash montage, in particular - which includes a rolling monologue about when, where and how Johnny made his hit-
has revived interest in him, especially since Cash's death last month. Linton happened to be playing Lee's on Sept. 12 the day
Cash died. His show became Minneapolis's official mourning session. "The place was packed, and I think most of the people
didn't even know who Sherwin was," said scenester David Campbell, who played washboard with young opening band Accident
Clearinghouse that night. Linton played Cash songs for an hour and a half. "He had the entire crowd in the palm of his hand the
whole time," Campbell said.
After years away from city nightclubs, Linton started performing at venues such as Lee's, Nye's and Mayslack's about two years
ago. He was encouraged to do so by Mayslack's booker Paul Metsa and by West Bank rock favorites the White Iron Band, who
asked Linton to headline one of its gigs at the 5 Corners Saloon.
The biggest reintroduction was in January, when Linton took the stage at the Cabooze's annual Cash only tribute to Johnny.
Coming on after the punk/metal band Janis Figure, Linton didn't flinch. He rocked hard and made it clear that he was a more
genuine article than any other Cash - lovers that night.
Linton had personal ties to the country legend. He's good friends with Johnny's younger brother, Tommy Cash. He also
performed with Johnny several times. At the South Dakota State Fair in 1975, Cash was so impressed with Sherwin's voice - a
deep baritone like his - that he took off his boots and gave them to Linton as a symbolic gesture. "He played the rest of the set in
his socks," said Linton, who of course, still has the boots.
In 1971, Linton recorded his tribute to the Man in Black, an album wise-archly titled "Hello, I'm Not Johnny Cash." He went
so far as to imitate Cash that he recorded it live at the state penitentiary in Sioux Falls, SD.
At the urging of Tommy, Linton talked with Cash by phone this summer, hoping to lift his spirits following the death of his wife,
June Carter Cash. "As usual, it was Johnny who did the encouraging toward me," Linton said.
Linton's music career started when he was a teenager playing in the rockabilly band the Rocketeers in Watertown, SD. He
moved to Minneapolis in 1957 and formed another group, the Fender Benders. He soon became a favorite at the Variety Bar in
downtown Minneapolis and especially at the Flame Cafe' on Nicollet Avenue, where country stars such as Lefty Frizzell and Tex
Ritter played. "Sherwin was always good at making personal contacts and working the business end of the music business,
because he is a friendly guy," said Jan North, another regular performer at the Flame.
In the mid- 60's, Linton was touring around the Midwest and started getting offers from Nashville agents. After gaining national
radio play in 1967 with the riches-to-rags anthem "Cotton King," Linton was represented by Acuff-Rose Music Publishing and got
to perform at the real Grand Ole Opry. His biggest blip on the national radar came when he landed on the ballots for the Country
Music Association's entertainer of the year award in 1972 and 1973. "I'm one of the only artists ever to get on there without
having a major-label recording contract," he said proudly.
Less rare, he said he "had one shady record deal after another," until finally even the bad labels weren't interested. His leanest
years were in the mid- to late '80's. After going on hiatus for several years when his third wife left him for another man, Linton
returned as a top-40 bandleader, playing hits such as Billy Ocean's "Caribbean Queen" and Phil Collins songs in hotel bars around
the Twin Cities. "The agent would come in with a copy of that week's chart and highlight the songs to play," recalled Pam Linton,
who became romantically involved with Sherwin around that time, after singing with his band for eight years. Said Linton, "The
final straw was when we were told to learn 'Welcome to the Jungle.'" After that, he started booking his shows, building off the
success of his 1987 novelty song "Santa Got A DWI," which appeared on the Rhino Records compilation "Bummed Out
Christmas." That song is one of the many odd footnotes in his career. He recorded another '80s novelty under a pseudonym
"(Expletive) Happens."
In 1988, Linton made another unusual move: He married Pam - an odd matchup considering Pam's sister Patti was married to
Sherwin's son. That makes his son his brother-in-law. Not to mention, there's a two decade gap between Sherwin and Pam's
birth dates. "Sherwin had some really rough years when I was worried about his state of mind," Pam said. "And out of that grew
a deep caring for each other." Linton joked, "We got a lot of requests for 'I'm My Own Grandpa' after that."
Linton started playing country music again in the '90s and vowed to stick with what he does best. It was slow going, with VFW
halls and small-town fairs around the five-state area. Then came bingo halls and county fairs. Then came casinos and state fairs.
Most of the touring was done in Freddy, his beat-up silver 1978 Ford trailer truck, which looks a bit like John Steinbeck's "Travels
With Charley" mini-bus and has more than 500,000 miles on it.
Linton who lives in Coon Rapids, doesn't have to travel as far for gigs now. While he's quick to note that the money is scant in Twin
Cities bars, he's happy to be back in the "in-crowd." "I really didn't know there was that kind of a niche out there for us. "I've been
pleasantly surprised." He's taking advantage of the newfound interest by releasing his first all-original CD in years, "It Happened In
America." Fittingly, he has two CD-release shows. Sunday at the Midwest Country theatre and Monday at the rock-flavored Fine
Line Music Cafe in Minneapolis. The album's 19 tracks run the gamut from novelty songs such as "Jesus in a Bathtub" and
"There's Always Next Year" (an ode to Vikings football, circa 2002) to more emotional fare such as the Cash-like gem "When I've
Got More Time" and the religious hymn "The Gospel Truth." Many songs fall somewhere between wacky and serious, which is
pretty close to Linton's personality. The trait comes across when he hams it up onstage - playing the part of the star, but with a
slight wink. "I think the older Sherwin gets, the stronger his character becomes," said Pam Linton, reflecting on her husband's
appeal to younger crowds. Sherwin laughed at that. "Then I must have a lot of character," he said.
October 17, 2003 - St Paul Pioneer Press
A Roadhouse Warrior Still Earns Allegiance
The scene is the Five Corners Saloon in Minneapolis' West Bank neighborhood. One of the bar's regular jam bands has just
wrapped up a set when a gray-haired man in cowboy attire - boots, hat and a hand-painted suit coat bearing a rural scene -
takes the stage with his band,straps on an electric guitar and tears into the kind of traditional country that blared from radios in
1966. The young crowd gushes toward the stage like a burst dam and begins dancing to the old fashioned country songs and
shouting the praises of the aging cowboy plucking his Fender Stratocaster.
After 45 years in the music business, Sherwin Linton never imagined he'd end up here, entertaining a loyal crowd made up of kids
young enough to be his grandchildren. But somehow, the 64-year-old Twin Citian has stepped beyond his reputation as a Midwest
roadhouse warrior to find fresh ears in the clubs of the Twin Cities. "Actually, it kind of frightened me," the 64-year-old Linton says,
speaking of his first Five Corners show back in 2001 from his Coon Rapids home. "Even when I was young, I didn't inspire that
kind of adulation. We played about an hour and a half, and they wouldn't let us leave the stage. And I thought, 'Well, this is a
unique and different kind of thing.'" Unique and different enough to lead to frequent gigs at small hipster clubs such as Mayslack's
and Nye's, a 2003 Minnesota Music Awards performance that still has attendees abuzz and a new CD. Linton will celebrate the
release of "It Happened In America," which collects and updates songs from a career that spans almost a half-century, at the Fine
Line Music Cafe on Monday night with his band, the Cotton Kings. Local folk legend Peter Ostroushko, dobro master Johnny
Beller and traditional country outfit Accident Clearinghouse will also perform.
So how did a man who has been recording country since the late '50s become a current Twin Cities club favorite? Linton credits
local singer-songwriter and club booker Paul Metsa. "Paul Metsa had heard of me and asked us to play Mayslack's," Linton
recalls. "We got to know the White Iron Band at that time. And they said, 'Why don't you come down to the Five Corners? We'd
like to open for you.' I went down there, looked around at that crowd and thought, 'How could they possibly be into what I do?' "I
asked what I should wear, and they said one of my hand painted duster coats. I said, 'Isn't that a little garish for this crowd?' and
they said, 'No, they'll love it.'" Love it they have.
It was a surprising twist in a career that began in tiny Hazel, SD, where Linton, the son of a railroad forman, learned to play guitar
from one of his father's co-workers. "My big aspiration was to be a singing cowboy movie star like Gene Autry or somebody," he
says in his laconic, aw-shucks baritone. "I knew something about riding a horse, but I had to learn to sing and play guitar, too." His
family settled in Watertown, SD, when he was in high school. "That seemed like the big city," Linton says. And soon the young
musician fell under the spell of rockabilly, forming a band that wound up having its own local radio show. After graduating from high
school, Linton was accepted to broadcasting school at Minneapolis' Brown Institute, which led him to a crossroads - literally. "It
was right after the first of the year in 1958," he recalls. "I remember being at the junction of Highway 212 and 81. I parked there
quite a while. I already had my registration to start school at Brown Institute in Minneapolis, but I felt really pulled to drive down to
Memphis and see if I could get in there with Sun Records or whatever. "But that was a long ways - especially since they didn't
have freeways in those days - and really didn't know much about the South. So I decided to make the secure choice and go to
Minneapolis." He never got to Memphis - he stayed and formed a rockabilly group called the Fender Benders. But he did
eventually make it to Tennessee. "By the mid-'60s, I was doing some touring with country acts, and the Glaser Brothers took me
under their wing. They brought me down to Nashville and produced some recordings in a big major studio called Bradley's Barn.
"They had a writer named John Hartford, who gave me a song he'd written called 'Gentle On My Mind.' But I only had one day to
learn this material, so I took some other songs that he'd written, as well as one another writer, Wayne Carson Thompson, had that
he wrote especially for me, called 'Cotton King,'" Linton says. "I'd asked him to write a song that related to rural life, yet had a
positive message. We recorded that in 1966. It was released in early '67, and it charted all over the country. "After that record, I
was touring with people like Tex Ritter, Hank Williams Jr. - who was only 17 years old at the time - Marty Robbins and Johnny
Cash."
Linton's link to Cash turned out to be key. "I'd actually recorded a tribute album to Johnny Cash back in 1971 called "Hello, I'm Not
Johnny Cash' live at the state penitentiary in Sioux Falls, SD. It was on our label, but it sold between 50- and 75,000 copies, which
was pretty amazing at that time," Linton says. "And Johnny Cash liked that record real well and had me on his show a number of
times. In fact, one time he was playing at the South Dakota State Fair, and he called me up onstage and gave me his boots. I still
have them."
Linton performed a short tribute to his recently fallen comrade at this year's Minnesota Music Awards and will offer a set of songs
by Cash as part of his Fine Line show on Monday. "I tell a little history and talk about our friendship, but it's not like an Elvis
imitator or something. It's more of a tribute," Linton says.
Considering that the "new" songs on his latest CD span so much of Linton's life, Monday's show could be considered something
of a tribute, too - one at which his longtime listeners will gather alongside newer fans to toast this singing cowboy's lengthy
career.
October 3, 2003 - Coon Rapids Herald
Linton will perform at Booster Club dance
Americana musician's career spans six decades
Sherwin Linton, nationally known musician, will perform at the Coon Rapids Cardinals Football Booster Club dance at the Coon
Rapids VFW tomorrow (Saturday, Oct. 4). The dance runs from 8:30 PM to 12:30 AM, with proceeds going to the booster club.
Tickets are $10 and can be obtained at the door.
Linton who has lived in Coon Rapids for 35 years, will be joined by his band, The Cotton Kings, and his wife Pam. Linton does not
consider himself just a country music performer, but rather a musician from the Americana genre, he said. Not only does he
perform country music, but also rock-a-billy, folk and gospel, Linton said. "I am not always mainstream, but I have a broad fan
base," he said. Linton, who grew up in South Dakota and moved to Minneapolis in 1957, has been performing since the 1950s. In
fact, he will release a new compact disc, "It Happened In America" this month, which will include 17 of the songs he has written in
the past six decades. There will be a CD release party at the Fine Line Cafe, Minneapolis Oct. 20. But, Linton will be performing
some of those songs at the dance tomorrow night, he said. "Most of the songs are topical today," Linton said. He gave as
examples, "Road Rage Rudy;" "I'm Going To Turn Over A New Leaf," which is about a person who wants to diet and quit smoking
and drinking all in one day; "Blame It On El Nino," and "We Need A Lot More Guitars And A Lot Less Guns On The Streets Of
America." The latter song is "not anti-gun but anti-violence," Linton said.
Linton's show at the VFW will also include a tribute to Johnny Cash. The legendary musician who died last month was a friend of
Linton, and Linton has incorporated a tribute to Cash in his shows for many years. "It has a special meaning right now," he said.
Linton, who celebrated 10,000-plus performances in his career in June this year, still plays 225 dates a year, most of them in the
upper Midwest, but also some in Texas and other parts of the country. But, Linton also spent time in Nashville, Tenn., in the 1960s,
where he recorded "Cotton King" that took him to the top of the country charts and he was signed to a long-term management,
recording and song writing contract. He appeared on numerous television shows and performed from coast to coast. He was
nominated to be Entertainer of the Year by the Country Music Association in 1972 and 1973. Linton was also nominated to be
Entertainer of the Year and Best Male Vocalist by "Music City News," the Academy of Country Music and several other
organizations and trade publications. In 1975, Linton's record, "When She Cries," won an award for Single of the Year. In recent
years, Linton has been inducted into the South Dakota Musicians Hall of Fame and the National Traditional Country Music Hall of
Fame.
October 5, 2003 - Minneapolis Star Tribune
A half-dozen cool things in the world of music, observed from two points of view:
By Jon Bream, Star Tribune and David de Young editor, www.howwastheshow.com, Mpls.
*The Frames, Fine Line. One of Ireland's best-kept secrets, and one of the best live bands in the world. Opening for Calexico,
the Frames completely mesmerized the crowd.
*Sherwin Linton and Big John Dickerson, Minnesota Music Awards. These two veterans added style and dignity to the event
and made it clear how Minnesota music is much more than loud rock bands in the 7th Street Entry.
*Spectrum: Minnesota Soundtracks, Sound Unseen Film Festival. Sitting through 28 local music videos was like watching MTV if
the music was great, the majority of the videos were top notch and all your friends were in them. Extra cool: Filmgoers got a free
DVD of the program.
*Bruce Springsteen gets cheesy. At Milwaukee's Miller Park, he made specific nods to BrewTown, doing s request for a polka,
singing "Cadillac Ranch" with its line about a girl "drivin' alone through the Wisconsin night," and making pianist Roy Bittan wear a
cheesehead. The Boss, he donned a Harley Davidson beret.
*Bob Dylan on Johnny Cash, Rolling Stone. Even his prose is poetic: "Johnny was and is the North Star; you could guide
your ship by him...But we can't define him any more than we can define a fountain of truth, light and beauty."
*Zagat Music Guide. Zagat's restaurant guides are more functional, but this first music one is more fun. The voters' tastes are
New York-centric, but Bob Dylan was named best songwriter and Leo Kottke ranked behind only Miles Davis and Jimi
Hendrix for musicianship.
August 3, 2003 - Sioux Falls Argus Leader
Western swing rings true for 30 years - Sherwin Linton a State Fair tradition
Huron - Tex Bamsey sits in a metal folding chair underneath the Centennial Sate tent at the South Dakota State Fair, clapping her
hands and moving her body to the beat of Sherwin Linton and the Cotton Kings. And once the hourlong performance is over, she'll
remain in the tent for another 60 minutes and will sit through the band's second set of the day. "I see him (Linton) whenever I get
the chance," said Bamsey, 69, of Howard. "I like the western music. I'm western. I'm not no rock 'n' roller." The reason she
repeatedly goes to see Linton perform is simple: "I just love to listen to him sing."
Bamsey is not alone. It was standing room only for the 21 shows Linton performed at the fair this week. This year's trip to the fair
was special for Linton - it marked his 30th anniversary of performing there. Gov. Mike Rounds proclaimed Monday as Sherwin
Linton Day. "He's recorded over 500 songs...he's in four Halls of Fame," Rounds said of Linton. "And he promotes South Dakota
and the American way." Linton, who also happened to be celebrating his 64th birthday, was stunned by the honor. "You pretty
much got me speechless," he said. "I appreciate it very much."
It's clear his audiences are mesmerized by him. He strolls out on stage in Hawaiian-style shirts with prints containing images
including dogs playing poker and a rural farm scene. His fingers - on both hands - are filled with Black Hills Gold rings - which
make it look as if he is wearing brass knuckles. One of the rings is more than 100 years old and was given to him by a Native
American man. "I take part of South Dakota with me everywhere I go," Linton said of his rings. "But the biggest part is in my
heart."
He bears a slight resemblance to Doc Baker from the television series "Little House on the Prairie" and sounds a lot like his friend
Johnny Cash. Linton's concerts are infectious fun. He has a loose, easy and relaxed style of performing, and he encourages the
audience to participate by clapping along on the songs. Some people take it a step further and can be seen mouthing the words,
chair dancing, smiling and tapping their feet.
Linton has been in the music business for 47 years. That's a long time for a man who built his first guitar out of a cigar box, ruler
and rubber bands when he was just 6 years old. He was born in Volga, but his family had their home in Arlington. His father was a
section foreman for the Great Northern railroad, and they moved around the state. Linton lived in a host of small towns, including
Osceola, Willow Lake, Chester, Wentworth, Irene, Hazel, Watertown and Grover. This helped to instill his love for the state. he
now lives in a suburb northwest of Minneapolis with his wife Pam, who also performs in the show. He has three grown children.
In 1956, he started a band called Sherwin Linton & the Rocketeers. In 1958, the band's name was changed to the Fender Benders
in honor of the Fender guitar. In 1966, he charted with a song called "The Cotton King" and the band changed its name to the
song title. Linton has played all across the United States and Canada. And he appeared on Johnny Cash's television show
numerous times. "I'm just doing songs that I truly enjoy," said Linton of his sets. "I have a repertoire of 5,000 songs - traditional,
country, folk (traditional contemporary), gospel, classic pop, rockabilly, rock 'n' roll and blues. American roots music."
He said the State Fair is his favorite place to play. "I came here first in 1973, out of Kansas. It was a wonderful thing to be back
home at that time," Linton said. One of his favorite fair memories goes back to the mid-1970's, when Johnny Cash was
performing at the grandstand. "He welcomed me onto the stage, took his boots off and gave them to me," Linton said. "And then
he sang in his stocking feet."
Nellie Wahlstrom of Canby, Minn., picked up two of Linton's compact discs after watching him perform. He autographed them for
her. "I just like the older country western music," she said. You can understand the words and lyrics. These are vintage songs."
Retirement is not in Linton's immediate future. He plans to return to the fair. "There is a warmth to it and country feel and that
element is the embodiment of South Dakota," he said of the fair.
Spring 2003 - Blue Suede News
This CD is a tribute to Jimmy Driftwood, who was still alive and plays, and also talks on it (released in 1996). Not all of the songs
are Driftwood's, but several of his are here, including his best known songs "Battle Of New Orleans" and "Tennessee Stud".
Linton's baritone suits the material well, and his wife Pam also sings some of them. For any who don't know, Jimmy Driftwood
was a history teacher from Arkansas who made up songs like "The Battle Of New Orleans" in order to make learning history
more fun for his students. He did such a great job everybody learned it after Johnny Horton had a hit on the song! But of course
there were more verses to the original story, and you can hear them here. Linton and Driftwood also tell the latter's story.
"Tennessee Stud" was based on a story about his wife's grandfather. Jimmy's wife also talks. Linton wrote a song about Jimmy's
mouth bow, and also has included songs from "The River Of No Return", Bob Nolan ("One More Ride"), Carl Perkins ("Silver &
Gold"), Billy Edd Wheeler ("Reverend Mr. Black") and others. Various instruments are backing the musical tracks. A fine
collection of folky Country music. Clearly Sherwin and Pam Linton are carrying on Jimmy Driftwood's tradition of using music to
teach history.
February 21, 2003 - Minneapolis Star Tribune
Another Twin Town old-timer whom folks have been happy to see in the clubs lately is Sherwin Linton. At 63, the country veteran
plays mostly casinos and festivals, but he recently picked up Monday gigs at Nye's and Thursday shows at Gluek's and has one of
each next week. Linton also turned a lot of young hipsters' heads last month at the Cabooze's "Cash Only" tribute (he went on
after Janis Figure, for a terrific rock/country juxtaposition). Thanks to that show, Lee's booked him tonight to do a full set of Johnny
Cash "If I gotta do someone else's songs, let it be Johnny's," said Linton, who was on Cash's TV show a couple times in the early
'70s after he released his tribute album, "Hello I'm Not Johnny Cash," now out on CD.
Linton still has a pair of boots that Cash gave him on stage at the South Dakota State Fair many moons ago. Linton recalled,
"He played the rest of the show in his socks."
January - February 2003 - Tradition Magazine
The Last American Frontier
CD Review By Bob Everhart
This has got to be the biggest undertaking of preserving a musical heritage from a specific geographical area in the US, that I've
ever seen. It's a magnificent project, done by one of the most passionate preservationists I have met in a very very long time.
Sherwin Linton, has the perfect voice for the music he is currently working on, and his music is very definitely a voice from the
past. How sweet it is! was an exclamation Jackie Gleason used to use. Gleason was also a big-band leader and director, did you
know that, and he liked music in the 'old' style, in other words, he wanted it to be as 'real' as possible. What do we mean by 'real'?
It has to be clean. It has to be done with a one-on-one relationship between the musician and his instrument, a vocalist with his
voice, and a recording artist with simple production. All of this is accomplished on Sherwin's new CD, and it is accomplished with
finesse and a wonderful sense of reality and timeless devotion. And a round-up of powerful musicians with equal talent and
devotion, make for a tremendous project. Sherwin himself is no slouch. You'll hear him on guitar, classical guitar, high string guitar,
harmonica, his Mom's old Hohner harmonica (that's probably an Echo), Pickin' Bow, Indian Flute, Milk Bucket, and Banjo. Wow!
You will agree with me, it's an undertaking, but one well worth it. Also on the CD is Doc Sloane on drums, but done very tastefully,
Scott McIlrath on string bass, Martin Vigesaa on acoustic guitar and Dobro (I think you'll hear him on Dobro on "My Home of
Zeeland"), Norton Lawellin on piano and keyboard, Randy Kohrs on Dobro (if I'm not mistaken, Randy is playing on "Waitin' For A
Train" and maybe "Isle Of Capri") and banjo. (Did you know Randy Kohrs is the Dobro player from Iowa that we had on our
television show, who learned from his uncle, Jack Ferguson, and is now the Dobro player for Dolly Parton. Wow...Sherwin, what a
coup! Shawunna Larkin on violin (should that be fiddle), Tina Larkin on mandolin, Jerry Minar on concertina and Mussette, Tim
Bradach on scrub board, Carole Skinner whistles (you'll hear her on Long Long Trail, and The Rosary My Mother Gave To Me.
She was at Avoca this year. Roy Holzer is a Zeeland Accordionist, Roger Patch on steel guitar. The vocals are great coming from
Sherwin, but they are outstanding with the addition of Pam (his wife). Nice job Sherwin, one of the best traditional music projects
I've heard this year. on the tail of "Oh Brother" this is one fine example of our older music from the mid-west region, and to me it's
a priceless treasure that I hold very dear. This musical project is a history lesson, and one you won't forget, mostly because of the
very memorable way Sherwin presents it. There is definitely some Tex Ritter in the early part of the CD, and really really nice to
hear this incredible crusty voice singin ol cowboy songs. To much! How Sherwin could do 50 songs, and still add narration to each
song, seems impossible to be on one CD, but it is. If I had the power, this CD would be in every school and every library in the
entire United States of America. It's the easiest history lesson you will ever listen to. Get your own copy $18.00 from Black Gold
Records, P.O. Box 48100, Minneapolis, MN 55448. You won't regret it! Nice job Sherwin, one of the best of the year for me!
December 2002 - Prairie Ad News - Lester Prairie, MN
Sherwin Linton - Five Decades of Music
In an industry dominated by synthetic sound and manufactured characters, Sherwin Linton relies on plain talk and traditional
values. He is grateful to his fans and the people who have helped him along the way. "The people are what keep me going,"
he said.
That may be a part of why he has been successful as a performer, song writer and recording artist for nearly five decades. He
has a way of connecting with his audience, and he has survived where others have come and gone.
I met with Linton at Nye's Polonaise Room in Minneapolis where he has been performing recently. From the minute he walked
through the door there was no mistaking his broad smile shining out from beneath a gigantic black hat. He is a larger than life
figure who has worked with some of the greatest performers in Country music. In spite of this, whether he is on stage, in a
recording studio, or sitting across the table at a Minneapolis bar, he speaks directly and without pretense.
During our visit, he talked about his life, his philosophy, and his plans for the future. At age 63, Linton still plays over 250 dates per
year, and while he acknowledges that, "This is a young man's game," has no plans to slow down. After 47 years in the music
business, he still finds the inspiration to carry on.
Born in Volga, South Dakota, Linton went to high school in Watertown. It was there that he got his start in the music business. He
was on the football team, and one day he had a conversation with a teammate on the practice field. He realized that this person
was committed to doing whatever it took to be successful in football. He also knew that he did not share that commitment, so he
explained that to the coach and turned in his equipment. Then he stopped at his house and picked up his guitar, told his mother
that he was going to go out and get a job singing on the radio, and headed for the radio station.
He had had an idea for a radio show that would include talking to fellow students about high school events, playing a few records,
and performing some songs with his band. He walked into the radio station and pitched his idea to the station manager. The
manager, Ross Case, liked the idea and asked him to make a demo tape. A few days later, at the age of 16, he had his own
Sunday afternoon radio show on KWAT.
Linton credits Case for giving him his start and teaching him a lot about the music industry the he would not have learned if he
had not been put in that position. But that does not keep him from reminding Case about another judgement he made during
those early days.
Case liked the demo tape that Linton made for him, but his one criticism concerned an artist that Linton had featured on his tape.
During one fifteen-minute period he had both performed a song and played a record by a new artist named Elvis Presley. Case
told Linton, "I wouldn't concentrate too much on his music, he's just a flash in the pan, and a year from now no one will ever
know who he was."
Linton noted that over the years some people have thought his own career was over, but twenty years later he is still around.
Linton knew what he wanted to do then, and he knows what he wants to do today. He wants to continue performing and recording
the music that is important to him. His career has taken him from South Dakota to Nashville to Minneapolis, with a lot of stops in
between. He has played venues from the Grand Ole Opry to Las Vegas. He has played private parties and State Fairs.
Linton recorded a hit song, "Cotton King" in 1967 and was nominated for entertainer of the year by the Country Music
Association in 1972 and again in 1973. He was inducted to the National Traditional Country Music Hall of Fame in 2000 and to
the Minnesota Music Hall of Fame in 2001. He has recorded over fifteen albums, and there are more on the way. His song
"Santa Got A DWI" has become a standard on some radio stations during the Christmas season.
I asked Linton what he thought was responsible for his long-term success. "I think it must be the personal touch," he said.
"There is no mystique." He added that he likes to be "part of (his) own audience," and he loves the interaction with people.
It has been reported that Linton has never missed a scheduled appearance during his long career. This may be hard to believe in
view of the casual attitude of some performers, but it seems to fit Linton's character. He noted that he has been fortunate to enjoy
good health for most of his life, but said that he has always done whatever it took to honor his commitments, which shows his
level of respect for his fans and others. "I just believe I should make every effort to be where I promise to be." Sometimes that has
meant playing when he was ill. Sometimes he has had to resort to chartering a plane to make a date when his transportation
broke down. On one occasion he broke his arm in the afternoon and played a show the same night. "there have been some times
when I showed up and the audience didn't," quipped Linton. He told the story of a show he played back in the late '70's at the
Orchid Inn in Sleepy Eye, MN. It was snowing when we left Minneapolis, and got steadily worse as the day wore on. By the time
the show started it was a full-blown blizzard. "We set up and played a set, but the only people in the audience were a couple of
guys that wandered in from the hotel. We were working for a share of the door that night, and not a guaranteed fee, so that one
didn't work out too well," he said. "I guess sometimes I have been more stubborn than smart."
Linton also discussed the style of music that he plays. He feels that his music is traditional where most of Country music today is
"contrived sounding." He explained that in his opinion Country music has departed from its roots, while other forms of music have
remained true to their origins. He added that much of the music today is "geared toward financial success, not toward artistic
quality." He acknowledged that during the '50s, '60s and early '70s a lot of what he did was "to try and get a hit." Contrasting that
with his recent work, he said, "what I do is to record music I like, or projects that represent something of my own that have
meaning as well."
Linton attributes his ongoing popularity to the traditional nature of his music. He said that not only has it kept his fans loyal, but it
has continued to attract new listeners. He mentioned recent concerts where the audience included "kids with tie dyed tee shirts
and red hair." He observed, "They have more respect for the character within music than people give them credit for." This
philosophy has kept him recording the kind of music he enjoys. "If I tried to record contemporary Country music, the young
people would not appreciate it, and my older fans would definitely not appreciate it." Linton blames the music industry for the
lack of creativity and originality today. Referring to the early years of his career, he said, "In those days there were a lot more
doors open to something that was unique and different...today it's all done from the East Coast or the West Coast. It's all
basically prearranged by the industry."
He said that when artists like Elvis Presley and Chuck Berry made it, it was because people wanted to hear their music. In
contrast, he said that much of the success of today's stars comes from the huge amount of money that the record companies
spend to promo them. "You are basically forced to listen to what they play, you don't have a choice."
He observed that during the '50s and '60s, radio stations played a wide variety of music. "All these rock and roll stars were coming
up, and at the same time those same stations were playing Frank Sinatra. They were playing Walter Brennan doing a narration of
"Old Rivers." They were playing the Kingston Trio...they were playing Percy Faith's "Theme From A Summer Place." They played
Mantovanni and Mario Lanza. Country music was big back then...and they even played some Polka music. All those songs were
on one top 40, and as a result, it gave the listeners an eclectic taste of music."
While his music is traditional in nature, it is not without variety. His repertoire includes selections from Rockabilly to Folk to
Country to Gospel. Last year he released a Christmas CD titled "At Home For The Holidays." He has been known to tell a story or
two, and his CDs as well as his live shows feature his narrative talents. His live 1971 tribute album, "Hello, I'm Not Johnny Cash"
is a classic example of this, and won the admiration of many fans, including Cash himself.
Linton is thankful for the people who have helped him along the way. His wife of 14 years, Pam Linton, has performed with his
band for years, and has been featured on his albums. She too was inducted into the National Traditional Country Music Hall of
Fame earlier this year. He also talked about the promoters and performers he has worked with, but said, "The people who have
helped us the most are the people," referring to his many fans.
It is important to Linton to give something back as well. He plans to continue to work with young people to help them get started in
the business. He tries to "encourage their musical aspirations and give them a chance to perform." He tries to "mentor them and
help them develop new ideas" while at the same time helping them to "understand and appreciate the history and traditions of the
music."
Linton is as busy as ever. In addition to performing with his band, The Cotton Kings, he does some solo performances. Recent
projects include a Gospel album that he released earlier this year. It was something he had wanted to do for some time, and is
typical of the work he is doing today. "I recorded the kind of music that appeals to me and that my audience seems to appreciate,"
said Linton. His plans include a new CD of original music that he has written from the 50's to today. This collection which he
described as "Americana" music is titled "It Happened In America" and is scheduled to be released next spring. He has ideas for
other projects as well, including a CD that would feature him reading some of his favorite classic poems along with some musical
accompaniment.
Linton will be bringing his annual traveling Christmas show to Arlington on December 6-7. This will be the fifth year for this event.
It will include the Christmas Show at 8:00 PM, followed by two Country shows. His complete schedule, and much more is
available on his web site, www.SherwinLinton.com.
As we sat in the dimly lit restaurant dominated by red carpets and chunky multi-colored glass light fixtures, I watched the face of
this veteran of a thousand dimly lit clubs and halls. There was no doubt that the road hadn't always been easy. The years of late
nights and smoky rooms may have taken a toll, but it didn't show in the gleam of his eyes or the flash of his smile. The
enthusiasm is real. He is a man who has spent his life doing what he loves, and if he and his fans have their way, he will be doing
it for a long time to come.
October 24, 2002 - Northeaster
Northeast Minneapolis, St. Anthony, Columbia Heights, Hilltop
Singer Sherwin Linton Comes Back To Northeast
He's gone from South Dakota to Northeast Minneapolis to Nashville, Tennessee. He's played in Las Vegas, and he's sang with
country greats such as Waylon Jennings, Roy Clark, and Conway Twitty.
Now country western entertainer Sherwin Linton is back in Northeast, playing on Monday nights at a local restaurant. At 63, the
singer - who lives in Coon Rapids - is still going strong. Although his local gig consists only of him and a bass player, Linton also
heads a traveling band that includes four other musicians and his wife Pam Linton, who sings duets with him and also sings
solos.
Many of Northeast's older baby boomers might remember Linton's first band, the Fender Benders, a duo comprised of him and
Doug Cauette. They started as teenagers, playing in Minneapolis in the 1950's and through the 1960s; their style, he said, was
rock-a-billy. The Fender Benders performed at the Rail Inn, owned by Don Baumgartener, on 27th and Central Ave. NE, and the
Rebal Bar on Marshall Street, across from the B.F. Nelson plant. Linton said they also played at the Lincoln Tap and the Big
Dipper, on Washington Street. They played at the Savoy and with Conway Twitty in 1959 at the Prom Ballroom.
When they turned 21, they got gigs at the Flame and the Variety Bar in downtown Minneapolis, and also the Frontier Club in
Fridley, on old Central Avenue. They also played at Mr. Nibs.
They started traveling to the west coast in the mid-1960's, Linton said, and picked up more band members. In 1966, his
version of a song called "The Cotton King" hit the national charts, and he renamed the band The Cotton Kings.
They played with singer Buddy Knox and The Evans Sisters, and also appeared with Waylon Jennings, Charlie Pride, and
Roy Clark in Nashville.
In the early 1970's, Linton was nominated three times for the Entertainer of the Year by the Country Music Association. Sherwin
played at the Grand Ole Opry in 1973.
Also in the 1970s politician George McGovern hired Linton to write songs for his campaign. Linton wrote, "McGovern Is The
Man," (a man with a plan) and traveled around the country with him performing it.
Linton writes quite a bit of his own music. He said his favorites include "There's Always Next Year," about the Minnesota Vikings,
and "Santa Got A DWI," an anti-drinking song.
The Santa Controversy - Although the Santa song was endorsed by Mothers Against Drunk Driving (MADD) and the
Minnesota State Highway Patrol, Linton said he got some heat from people who apparently revere Santa "even more than
Jesus or God."
One disc jockey, Dr. Demento, whose show was broadcast nationally, played it frequently, fanning the flames of the controversy. "I
believe in the myth and value of Santa Claus, " Linton said. "And after the controversy I appreciated him even more, because he
made me a lot of money. We sold a million records."
One of Linton's good friends was the late Jimmy Driftwood, who wrote more than 6,000 songs, including "Battle Of New
Orleans" and "Tennessee Stud." The two worked together on a folk project in Mountain View, Ark., known as the Folk Music
Capitol of the World.
Linton has appeared on television, including variety shows starring singer Johnny Cash. In 1971, Linton cut a live album in Sioux
Falls, South Dakota titled, "Hello, I'm Not Johnny Cash," which was a tribute to the performer. After Cash heard the tape, he wrote
Linton a letter congratulating him on it.
Another local performer Columbia heights resident Dorothy Freyberger (Northeaster, Sept. 12, 2002 ), sang with the Cotton Kings
in the mid-1970s. "We were friends and she'd come and sing with us. She sang novelty songs and was a good addition to our
show," Linton said. Freyberger traveled with the band to California, Washington, and Georgia, he added.
Linton met his wife Pam when she and her sister Patti were in high school and their parents brought them to see The Cotton
Kings. The girls became part of the act in 1980, and Linton and Pam were married in 1988. "When I married her, I had 90
guitars," Linton said. "I had to sell some of them to make room for her."
Traveling, Recording - When asked to describe a typical week nowadays, Linton said he does all his own bookings and publicity
for the band. They travel the country in a customized truck and go wherever the gigs are, he said. Last year, they produced four
compact discs, including one of Gospel music. "In the 1960s and 1970s, I concentrated on trying to get hits in the country music
field," Linton said. "Now I record things I like. They don't have to be aimed at the mainstream commercial market."
He often experiments with different types of music and instruments; the gospel compact disc includes a pump organ, a musical
saw, a mandolin, a fiddle and a Hawaiian dobro. It also features a musician who plays stemware and mixing bowls. Linton plays
guitar, harmonica, banjo, fiddle and a mouth bow, a single-stringed instrument with a high pitched sound.
He said that in 1961, he invented a device that attaches to a guitar's B string and enables the player to stretch the B string
one full note.
Linton said he has a 5,000 song repertoire; he has studied music and music history all his life and has an extensive collection of
music catalogues. He is proud of one of his recent projects: titled "The Last American Frontier," it was a centennial project
commissioned by the small German-rooted town of Zeeland, North Dakota. He included many songs that dated back to the
pioneer days, as well as his own writing and dialogue.
He recently put together a 23-song Christmas compact disc from his traveling Christmas show; the band performed many of
the songs at Columbia Heights Mayor Gary Peterson's holiday party at Murzyn Hall last year. They are also booked to
perform at the party this year.
One of Linton's local fans is musician Paul Metsa, who said he first heard Linton play when he sat in with Metsa at a gig at
Bunkers. "He sang 'Good Rockin' Tonight,' and it blew me away," Metsa said. "I think he's a mid-west treasure. I call him the Mid-
west's answer to Johnny Cash. he's an incredible entertainer, and one of my favorite singers."
When asked why he chose to live in Minnesota rather than Nashville or California, Linton who has three children from a previous
marriage, said he has stayed in the Twin Cities area to be near his family. In the future, however, he said he'd like to go back to
South Dakota. "I've been longing for the area where I grew up, near Watertown. I like the wide open country."
August 31, 2002 - St Cloud Daily Times
A woman from St. Stephen will be inducted into the National Traditional Country Music Hall of Fame during a ceremony Sunday
in Iowa. Pam Linton, who is a native of St. Stephen, will be one of the inductees. She has been a creative force in Traditional
Country Music For almost three decades and contributed several Folk and Gospel selections to "The Last American Frontier
Centennial", a CD that was released in 2002.
August 21, 2002 - Watertown Public Opinion
Linton Returns To Area He Loves
By Brent Zell, Neighbors Editor
When you're four years old a trip from Osceola to Bancroft can be a big deal.
Of course, Sherwin Linton's mother probably didn't see it that way. When the Linton's lived in Osceola, a tiny town located in
northwest Kingsbury County, they had an electric washing machine to help with the housework. One problem: Osceola didn't have
electricity at the time. Bancroft did, however, and so the Lintons kept their washing machine there and had to make the trip of
several miles just to do laundry.
But For young Sherwin, going anywhere wasn't seen as drudgery. "For me, when you're a child you don't think anything of that,"
he said. "It was an adventure."
When Linton dove full-bore into his country music career, he brought those memories back to life in a song about a washing
machine. The song, recorded in 1966, was about a person who missed the old electric washing machine when the automatic
machines came to the forefront. Linton made sure to throw in an impression of his family's old machine during the song.
It's just one example in Linton's 40-plus-year career of how the 1957 Watertown High School graduate has kept his ties to life
in the upper Midwest. The former Country Music Association Entertainer of the Year nominee, multiple award-winner and
recent inductee to the Minnesota Music Hall of Fame returns to his roots this Saturday for a performance at Fortin's Barn north
of Watertown.
Also scheduled to perform on the card with Sherwin, his wife Pam and the "Cotton Kings" are young singers Jillian Marie and
Alexandra Samson, the "Yodelin Cowgirl" Teresa Endres, Rhonda Cooper and Sam, International Whistling Champion Carole
Skinner and the "Singing Farmer" David Sueltz.
Even thought decades have passed since Linton played in such Glacial Lakes spots as The Playhouse in Clark and the Tip Top
Tavern in Kranzburg, Linton finds himself as busy as ever. He's already put out three albums in the past year, with another one
scheduled to be released this fall. On the surface, each project is different. One is a collection of Christmas songs, another is a
Gospel album that makes frequent use of a pump organ, and the third is an album done in honor of the centennial of the town
of Zeeland, N.D. The latter has different styles of performing within it, from spoken-word soliloquies detailing the history of that
area to German songs that reflect Zeeland's heritage. The upcoming album will feature original Folk songs.
Despite the different appearances, there is a recurrent spirit through each album. "Each project stands on its own, but the
common thread is a lot of traditional music on each one." said Linton.
Staying true to his musical roots is what has earned Linton a following that allows him to perform in front of crowds at a rate of
about 250 performances a year. His fidelity to Traditional Country Music has also brought him a new group of fans in the wake of
the success of the Bluegrass-dominated soundtrack to "O Brother, Where Art Thou?" Today, Linton said he is likely to look out in
the crowd and see youngsters wearing "tie-dyed shirts and orange hair" singing along with the music. "It's not just tongue-in-
cheek; they know the words to these songs," said Linton. "There's great value in character within music, people who have been
there and experienced what they're singing about. I guess in my maturity, that's what I'm able to project in my music. I've lived
what I'm singing about, and younger people do respect and admire that."
Saturday night, he brings it all back home where it started for him in the 1950's. Much like his youthful journeys to
Bancroft, it's an experience he relishes. "I enjoy it," said Linton. "I know the vibe and feelings of people there. It's a
strong bond."
July 30, 2002 - Huron Plainsman
State Fair Is Homecoming For S.D. Native Sherwin Linton
For the fifth straight year at the South Dakota State Fair, Sherwin Linton is showcasing musical talent from throughout South
Dakota on the Centennial Stage.
Linton, along with his wife, Pam and The Cotton Kings, is performing each day at the State Fair at 11:00 am, 1:45 pm, and 3:45
pm. Along with Linton and his band, a wide variety of South Dakota talent will be performing on the Centennial Stage.
Linton made his first appearance at the State Fair in 1973, when he and his band performed at the grandstand. Over the years,
he has been the opening act for several country music superstars such as Mel Tillis, Ronnie Milsap, and Marty Robbins at the
State Fair, along with performing with Johnny Cash. He has also performed on the Freedom Stage on a number of occasions. It
was during a Freedom Stage performance six years ago that he featured a number of South Dakota acts.
Linton said having South Dakota talent perform at the State Fair was well received and he was encouraged by the fair
commission and Gov. Bill Janklow to make it a regular feature at the fair. Since, then, Linton has performed his show each day
during the fair featuring a wide array of South Dakota musical talent that includes both professional and amateur performers.
Being able to showcase South Dakota talent at the State Fair has meant a lot to Linton. "There is a lot of excellent and talented
performers in this state and it made good sense to showcase this talent at the State Fair," he said. "This gives them a chance to
perform before an audience in a professional environment."
While some of the acts are seasoned performers, many of them are making their first stage performance at the State Fair. "It
gives them a start before a crowd and gives them some experience that they can build on," Linton said.
He said some of the performers making their first appearances before a crowd at the State Fair over the last five years have gone
on to become seasoned performers. "It can be a very rewarding experience," Linton said. "Over the years, I have seen them
improve and progress on their own, and that is very satisfying. Some of them have gone on to make a professional career for
themselves after performing here at the State Fair."
Linton, who has been a professional musician and entertainer for 46 years, also lends his talents to these budding performers
by producing CD's of their work.
He was born in Volga and lived in a number of South Dakota communities during his youth as his father worked for the railroad. It
was in Watertown, while attending high school in the 1950's, that Linton started a band, a rockabilly group called Sherwin Linton
and the Rocketeers.
It was during that time he struck up a friendship with another budding performer, Lowell Lundstrom, whose band was
called Lowell Lundstrom and the Rhythmaires. Lundstrom, a Sisseton native, would later give up his rock 'n' roll band for
a successful career as an evangelistic minister and gospel music performer.
Lundstrom, who has taken his Good-News Crusades across America, started the new Celebration Church in Burnsville, Minn.,
six years ago with his wife, Connie.
Linton and Lundstrom will reunite during this year's State Fair when Lundstrom will deliver a message and do a musical
performance on Linton's Sunday morning Gospel Hour at 10:30 a.m. on the Centennial Stage.
South Dakota artists performing during the week on the Centennial Stage include Mallorie Haley, Renee Miller, The Music Makers,
Jeff Adel, Evan Wahl, International Whistling Champion Carole Skinner of Miller, Teresa Endres "The Yodelin Cowgirl", Koenig
Singers, Rhonda Houtcooper, Mitch Kallhoff, Tune Time Singers, Greg Hanson, Heather McDonald, Geneva VanVleck, Rory
Hoffman, Hailey Soyland, and David Sueltz.
On Sunday at 1:45 and 3:45 p.m. the South Dakota Old Time Fiddlers will be performing on the Centennial Stage.
November 25, 2001 - New Ulm Journal
Introducing The Newest Minnesota Music Hall-Of-Famers
By Rachel Wedding, Journal Staff Writer
NEW ULM - Five musicians joined the Minnesota Music elite as they were inducted into the Minnesota Music Hall of Fame
earlier this month during the 13th Annual Induction and Ceremony Banquet at the Holiday Inn, in front of one of the largest
audiences ever gathered for the ceremony.
The newest Hall-of-Famers include "The Barbary Coast Dixieland Band", "Philip Brunelle", "Sherwin Linton", the late
"Raymond Meidl" (1907-1978) and "Wally Pikal".
Minnesota Music Hall of Fame Executive Director, Dodie Wendinger, has served as director since the first round of inductees in
1989. Wendinger pointed out that a musician doesn't need to be born in Minnesota to be inducted. "They don't have to be born in
Minnesota, its where they developed their music - if they significantly added to the Minnesota music scene," Wendinger said. "It
takes longevity to create a music hall-of-famer - it's not for the musicians who are hot at the time.
Sherwin Linton - Mike Shaw, Hall of Fame Board of Director and 2000 inductee, served on the selection committee that helped
induct Linton into the Hall of Fame. Shaw has been in the music industry as a booking agent and musician for over 40 years and
said it's a great honor to be inducted into the Hall
August 8, 2001 - The Cottonwood County Citizen
Sherwin Linton "A Household Name"
"Hello," the deep bass voice said as Sherwin Linton picked up the phone in his Minneapolis office. He was expecting a call
from a Citizen reporter about 11 a.m.
It was no mistake that it was "Mid-America's number one entertainer," a description that appeared in the newspapers in the
1970s. Linton was also called "an entertainer's entertainer," Mr. Versatility and "a nationally unknown superstar." "Why in the
world do you admit that you were a national unknown at one time?" the reporter asked. "That was a headline in a country music
publication in the early to mid 1970s," he said. "I wasn't exactly a household name, even though I was among the top nominees
for Entertainer of the Year by the Country Music Assn. in 1972 and 1973."
Linton grew up in Watertown, SD and learned to accompany his singing, chording on the piano and guitar as a child. By 16, he
had had his own radio show. He and his band, The Rocketeers, performed all over eastern South Dakota. After moving to
Minneapolis in 1957, he organized another band (Fender Benders) and the group was heavily into Rock-A-Billy.
In 1966, Linton went to Nashville to cut Cotton King, a song that catapulted him to the top of the charts. It was there that he was
signed to a songwriting and recording contract.
In the mid - 1970s Linton, received another nomination for Entertainer of the Year and also Best Male Vocalist by Music City
News, the Academy of Country Music and several other publications. In 1975, When She Cries won an award for Single of the
Year. In 1986, Linton recorded a major Christmas hit, Santa Got A DWI. The novelty song with an anti-drunk driving theme has
become a perennial Christmas favorite.
During the '60s, '70s and '80s, Sherwin's show played everywhere from the Grande Ole Opry to the Las Vegas strip. Hundreds of
appearances were made at state and county fairs. "I've done lots of fairs and various events in your area," Linton continued. "We
played the Valhalla Ballroom in the 1960s, the Worthington Coliseum in the 1970s and Fulda in the 1980s. We have a lot of
friends there. That kept me going!"
Over the past 30 years, Linton and his group, including a drummer and upright bass, steel guitar and electric guitar players, have
been booked at the South Dakota State Fair in Huron. His wife, Pam, has provided vocals with the band the past 21 years. Before
coming to Windom, they appeared at that fair from July 30 to Aug. 5.
An excerpt from last year's Argus Leader follows:
"Sixty-year-old Sherwin Linton steps around the microphone stand and jumps from the stage, strutting down the aisle, grinning
and picking a guitar line to the old country song "Detour". He leaps onto an empty bench in the midst of the audience and whirls
around a time or two in his silver-toed western boots, his grin and long, grey hair standing straight out. "The crowd goes wild."
Sherwin Linton and his entourage will perform Friday at 7:30 p.m. at the Arena. The event is free, thanks to Toro, this years
sponsor.
"This is the first year Toro has sponsored free entertainment," said Gary Oldon, Cottonwood County Fair Board Secretary. "It is in
recognition of their 50th Anniversary. At the end of the show they're giving away a couple of Toro lawnmowers."
Mallorie Haley, 12, will also be featured. "I've known her four or five years. She's a very talented singer and has a certain
magic about her appearance," Linton said. "She is not a regular member, but we book her for 60 to 70 dates. She's been in six
states with us this year."
Performing since the age of 5, Mallorie has won first place in several talent competitions and most recently won first place
out of 187 contestants at the Mall Of America. She sings music of the great legends, like Patsy Cline, LeAnn Rimes and
Reba McEntire.
Asked what has contributed to his 45 year music career, Linton chuckled and said, "One reason I stayed at it so long I couldn't go
get a job at McDonald's." Then growing serious, he added, "I've maintained what I do best - a high energy show filled with a
variety of material - country to folk to gospel to rock-a-billy. We have a 5,000-song repertoire. I've learned a lot of material in a
long, long career. "I'm not a Garth Brooks. If I tried to appeal to a younger crowd by doing what is done now, I'd lose my own
personal identity. I think that's one mistake a lot of people made with the younger generation. "All ages seem to appreciate the
character of my music. Serious and sentimental songs are part of my performance, too."
By keeping his music fresh and continuing to record, Linton builds a new fan base. His most recent recording is a gospel CD. In
addition, he has a Christmas album and another CD featuring 16 contemporary folk songs that he's written.
"I work real hard at what I do," Linton concluded, assuring this reporter the county residents will not be disappointed.
August 3, 2000 - Sioux Falls Argus Leader
Linton Packs In The Crowds
"They Just Want To Have Fun"
Huron - It's an hour before noon and the August sun is heating the brightly striped roof of the tent enclosing the South Dakota
State Fair's Centennial Stage.
More than three-fourths of the seats inside are full of the State Fair visitors who are clapping vigorously to the beat of string bass
and drums.
Sixty year-old Sherwin Linton steps around the microphone stand and jumps from the stage, strutting down the aisle, grinning and
picking a guitar line to the old country song "Detour." He leaps onto an empty bench in the midst of the audience and whirls
around a time or two in his silver-toed western boots, his grin and long, gray hair standing straight out.
The crowd goes wild. "They just want to have fun, and they want you to be having fun, too," Linton says later.
Linton has been doing this since he was old enough to make his first guitar out of a cigar box and a yard stick.
He's finished the morning show and the first of two afternoon shows he'll do every day of State Fair week. He's signed some
autographs, shaken some hands, given a father and daughter some advice on breaking in the country music business. He
ought to be dog tired, but he shakes off that notion, pursing his lips the way Johnny Cash sometimes does.
"This is my life," Linton says. "It's what I do, and if I look like I'm enjoying myself up on stage, that's no act. I love it when the
music starts and the crowd responds."
It's been a long, sometimes strange trip for the South Dakota kid who hit national country-music paydirt in 1966 with "Cotton
King," a song recorded in Nashville. Born in Volga, he and his family moved often in South Dakota as his father found railroad
work from Arlington to Hazel to Watertown. Watertown is where Linton went to high school, and where he had a radio show on
KWAT before he split for the Twin Cities.
There he left a band called the "Rocketeers" and started the "Fender Benders" in 1957.
When Cotton King rode high on the charts, he performed as Sherwin Linton and the Cotton Kings, playing venues from the Grand
Ol' Opry to Las Vegas, winning nominations in the early 1970's for Country Music Associations entertainer of the year.
Those days are gone, but the music remains, and the road. He'll play 250 dates this year, the State Fair week, a spot he's been
playing off and on since 1973. He had surgery last spring to remove polyps from his vocal chords. It's the third such operation for
Linton, but there's no hint of weakness in the booming voice that seems to come from some bottomless black hole.
"He's an amazing story," said Fair Commissioner Mike O'Connor of Hartford as he watched an afternoon show from the back of
the tent. "I don't know if a lot of people understand how much he brings to the fair year after year, but the commission does."
This year, as a complement to the Great Reunion theme of the state fair, Linton put together a showcase of South Dakota talent,
with different performers for each of his daily shows.
Tuesday, for example, he featured 11-year-old Mallorie Haley of Winner.
She gave the audience a high-powered performance of "Blue Moon of Kentucky," then sweetly reminded them about her first
album, already out.
"Isn't it something, a young person like that and just loaded with talent?" Linton said. "We have all kinds of talented people across
the state, and I tried to get as many different ones as I could schedule in here. It never hurts a performer to step back from the
center of the stage and let someone else give the crowd a little entertainment."
It doesn't hurt much, either to step right smack to the front of the stage, as Linton does to open and close each show. He
performs a medley of country standards, including a duet with his wife, Pam, on a Cash and June Carter Cash hit, "Jackson."
With a 100-watt smile and a wide-brimmed hat pulled low above his eyes, Linton looks like a man who is standing just exactly
where he's supposed to and knows it.
I grew up on Bob Wills, and then Bill Haley and Chuck Berry, Elvis and Little Richard and Buddy Holly, Johnny Cash and the
Everly Brothers," he says. "Music has changed a lot, but the style those people put together is a constant. If a person sticks with
that good, solid stuff, he ought to be able to enjoy himself a long time."
© 2008 Sherwin Linton Entertainment Enterprises
Updated 2019